Predictions for Twitter Stock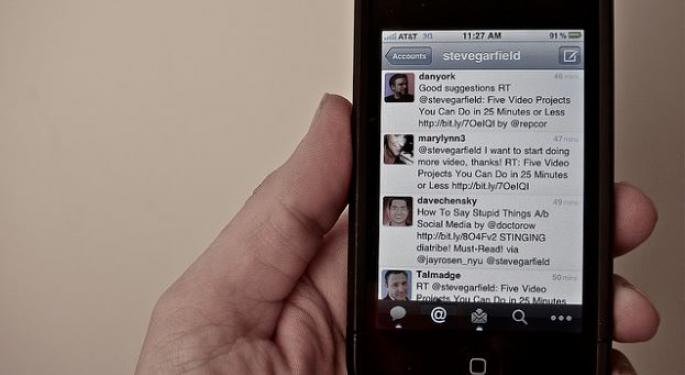 Here are some ideas people have about Twitter Stock Post-IPO

Are you excited about owning some stock in Twitter? You're not alone. This is one of the biggest anticipated stock offerings since Facebook (NYSE: FB). The question on everyone's mind is whether Twitter will have to roll out their "Fail Whale" because of problems. Many are hoping this doesn't happen, and with all the work that's being done to avoid any mishaps, it's looking like the Twitter IPO will be a lot smoother than Facebook's.


Twitter IPO Anticipations

Twitter (NASDAQ:TWTR) wants to sell around 70 million shares (or more) at $17 to $20 each - raising well over a billion dollars. This is money they definitely need in order to keep growing. In fact, analysts at Ad Week have said that the stock price may immediately rise after the IPO, going as high as $48 per share - even more than Facebook right now. Of course, these numbers are still a lot lower than Apple and Google - whose stocks are worth hundreds of dollars each.


Avoiding Facebook's Problems

While Twitter isn't going with NASDAQ (like Facebook), the NYSE recently ran a test of market flotation for Twitter (NASDAQ:TWTR) stock. According to some, the tests went really well and they're not expecting any problems with the initial Twitter stock when it goes on the market soon. Any problems right after the IPO could really affect the company and how well they do for those first few weeks.

Compare this with all the problems Facebook had when their stock was first available - some people said they couldn't buy or sell, which eventually led to lawsuits. The SEC (Securities and Exchange Commission), ended up giving a fine to Nasdaq of $10 million. Even though this is a drop in the bucket compared to the money they make, it was still quite sizable.


The Future of Twitter

Depending on what types of IT courses you've taken in the past, you may or may not understand Twitter's business model. Instead of trying to monetize right away, they focused on growing their audience. Now that they have the traffic and people, they are trying to make money from them - all of them. This is working a little bit, but they still have a long way to go.


What Should You Do?

While there's no way to know for certain what's going to happen on the market, there's a good chance that some of the analysts who are predicting big gains are going to be correct. And if this happens, the initial stock price of $17 to $20 will raise very quickly. This means that people who get in from the very beginning may be able to double their money - or at least make a nice return.

However, having said that, before you plan to dump all your money into Twitter stock right after their IPO, it's still advisable for you to do your own research. Use the Warren Buffet model and try to find out as much as you can about Twitter's books and their business model. This will help you determine whether you should buy or not right after the IPO.
The preceding article is from one of our external contributors. It does not represent the opinion of Benzinga and has not been edited.
View Comments and Join the Discussion!