We're Not Playing: These Gaming Stocks Are Worth a Look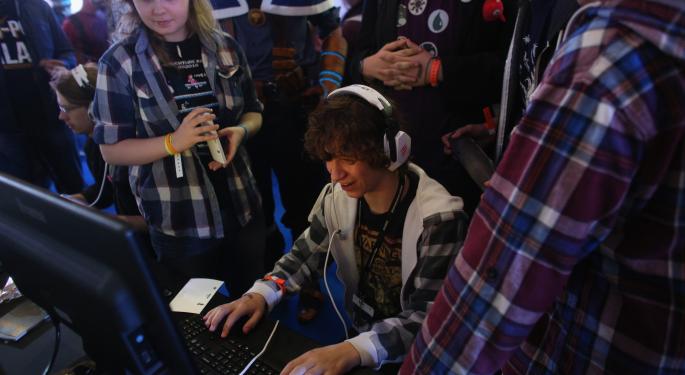 Gaming has come into its own in the New Millenium. What started in the post World War II years with pinball machines and arcade games has morphed into a multi-billion dollar industry -- which rivals even Hollywood in both production and profits.
Since the introduction of the iPhone and its rival Android operating system, the world of gaming has opened up to even more people. No longer the domain of males in their teens and early twenties, gaming has gone mainstream.
With this increasing acceptance has come a tremendous opportunity for profits, as can be seen by the success of several recent gaming titles, including the Grand Theft Auto series. Let's take a look at some of the top stocks for those ready to get in on gaming.
Take-Two Interactive Software (NASDAQ: TTWO) arguably has the hottest entertainment franchise in history on its hands, with Grand Theft Auto V. Within the first 24 hours of the game's release, an estimated $800 million in revenue was generated worldwide on approximately 11 million sales. The game blew though the $1 billion mark in just 3 days. It is easily the fastest-selling entertainment product in history. Take-Two also publishes such franchises as L.A. Noir and Max Payne.
Electronic Arts (NASDAQ: EA) is another publisher with an incredibly popular product. Its flagship title, Madden Football, is on its 25th iteration and continues to be a strong seller. The company recently named Andre Wilson as CEO. It's also expected to diversify its focus and enter more aggressively into the smart-phone and tablet markets in the coming months.
Microsoft (NASDAQ: MSFT) is the company behind the popular Xbox gaming system. Due for an upgrade this year to the console's next generation, much of Microsoft's gaming fortunes are tied to fan's reception of the new device. The company already had to back off of unpopular features of the new system, such as requiring an active internet connection in order to initiate game play. After outcry about this and other restrictions, the company hastily announced changes. Set to be released sometime later this year, the fortunes of the Xbox One, and Microsoft's gaming division, should come into better focus after the holidays.
Zynga (NASDAQ: ZNGA) is the publisher of such popular Facebook games as Farmville and CityVille. The company's stock started off the year at $2.39 and has since climbed to $3.54. This impressive increase comes in light of overall disappointing performance by the company's stock, which have been closely tied to that of Facebook. Perhaps a recent run-up in the price of the latter will be able to help buoy the former.
The fortunes of gaming stocks could be affected by the government shutdown. The loss of work by government employees, along with any additional financial uncertainty, could put a damper on holiday orders for gaming systems and games. These factors, however, could work in favor of smaller cap gaming producers, and producers of games which sell for under a dollar.
Posted-In: CityVille farmville Grand Theft Auto V Madden Football video game accessories video games xboxMarkets Best of Benzinga
View Comments and Join the Discussion!