Why a Debt Default May Not Be as Bad as It Seems for Investors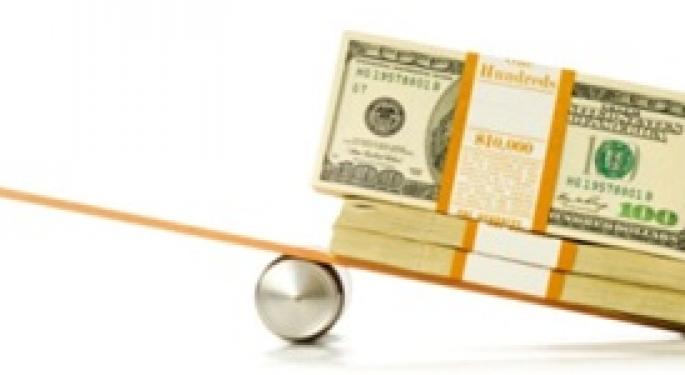 Today is day nine and counting of the U.S. government shutdown. At this point, of course, the bickering in Congress could magically stop and the politicians could hug and make up, ending the stalemate. However, I think the idea of the government coming to a resolution this soon is more fiction than reality.
My feeling continues to be that the government may finally solve the budget issue soon, but with the debt ceiling deadline on October 17, it's likely to be a last-minute thing. In fact, there's even a possibility no budget or debt ceiling deal will be agreed upon by October 17, based on the lack of progress we're seeing right now. And while the White House may be considering a short-term increase on the debt ceiling limit, this isn't an actual resolution—it's just a temporary bypass.
However, if this short-term increase doesn't occur (which is a possibility, given the government's inability to agree), I really would not be that surprised to see the debt ceiling deadline come and pass. America would then run out of money and would default on its debt, bringing down the financial markets and the U.S. economy. The global economy would also be at risk.
Now, this may seem like just more fiction, but it could also happen: just like it was in 2011, the country's debt could be downgraded due to the inability of the two parties to compromise on the debt ceiling,
And depending on how long the shutdown lasts, the impact on the country's fourth-quarter gross domestic product (GDP) could be minimal or it could be larger. Bank of America Corporation (NYSE: BAC) cut its GDP growth forecast for the country to an even two percent for the fourth quarter, down from the current 2.5%, if the shutdown extends for two weeks. (Source: Harjani, A., "Danger grows as shutdown heads into second week," CNBC, October 7, 2013.) Even worse, Bank of America's estimate assumes the debt ceiling limit will be resolved.
Don't get me wrong; I do, of course, hope the budget and debt ceiling issues are resolved by October 17. But if they aren't, a buying opportunity could surface if investors are patient. In 2011, after the debt rating downgrade, stocks fell as money shifted to bonds, but the stock market did manage to recover to new heights.
A similar pattern could happen this time around if the debt is downgraded, so you should have some money available for some buying. You may also want to sell some stock positions ahead of the October 17 deadline if it looks like Congress will not be able to deliver a debt ceiling deal.
The key is the Federal Reserve, with all of this happening, will surely continue to maintain its current bond buying until at least the December meeting or into 2014. If the GDP is cut and with the jobs market likely to remain soft, the easy money could continue to flow and pump up stocks.
This article Why a Debt Default May Not Be as Bad as It Seems for Investors was originally published at Investment Contrarians
The following article is from one of our external contributors. It does not represent the opinion of Benzinga and has not been edited.
Posted-In: Markets Trading Ideas
View Comments and Join the Discussion!