This Indicator Will Help Identify A Market Top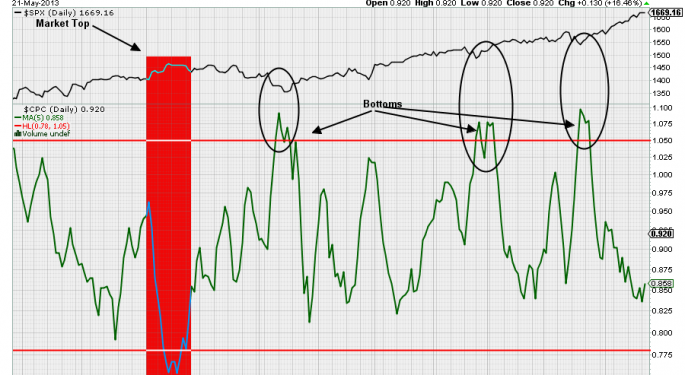 On Sunday, I showed an indicator showing Market momentum is running into resistance. This happened twice, in the last few months, the first time the Market topped out (September of last year), and recently in January, the Market slowed down a bit before proceeding higher. This time it seems like the market is trying to pullback. I am not sure if this is a top, but I would like to share a sentiment indicator that has the ability to call important tops and bottoms. If we end up with a short term correction and proceed higher, I suspect the indicator below will help pinpoint a top (could be a long term process).
The chart below is the Put versus Calls of all options, this information is smoothed with a 5 day moving average (this indicator was introduced to me by Tom McClellan). When the moving averages is lower than .78, it tends to signal toppy conditions. Similarly, when the 5 day moving average goes above 1.05 the market ends up putting a pretty important bottom. Right now, the trajectory of this indicator is clearly heading to dangerous levels that don't end happy for the bulls. Note on the chart, the indicator has correctly called the September top of last year. as well as signaling 3 important bottoms correctly within the last 8 months. There are two important pieces of information to take away from this chart. The first is, since we haven't reached toppy levels, there may be more upside before a top is formed. Secondly, as shown last September, tops do indeed take time, as the Bears dream scenario of blow off tops are very rare.
The following article is from one of our external contributors. It does not represent the opinion of Benzinga and has not been edited.
Posted-In: Markets Trading Ideas
View Comments and Join the Discussion!