The Dow Is at a Record High, but Institutions Are Selling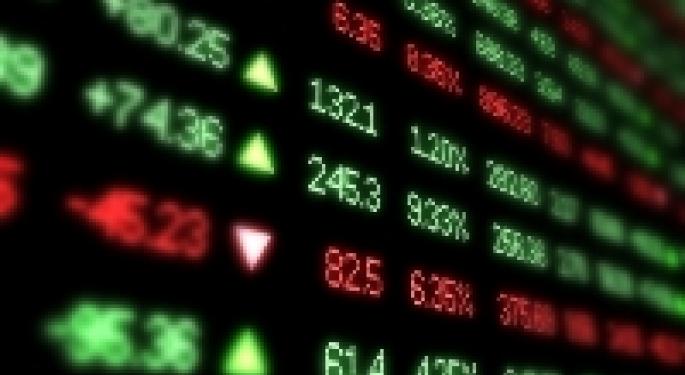 By George Leong for Investment Contrarians
The shares of Apple Inc. (NASDAQ/AAPL) have been on a steady climb since plummeting to $385.10 on April 19; but my sense is that the buying has largely been driven by retail investors and not from where it counts with the institutional money, based on my stock analysis.
Insiders and the institutional money are not as supportive of Apple, according to my stock analysis. Over the last six months, insiders have sold Apple in 10 transactions totaling 127,896 shares, while there was only one insider buy of 1,780 shares, according to information by Thomson Financial.
Institutional buying, which I believe is the key to stocks due to their knowledge on the companies, is also refraining from buying Apple, even at the much lower price. My stock analysis indicates that institutions have unloaded 27.8 million shares of Apple with institutional investors' ownership declining 4.5% on a quarter-to-quarter basis, according to Thomson Financial. Some of the biggest sellers include Capital World Investors (-56.3% in Apple stock), Wellington Management (-48.9%), HSBC Holdings (-62.6%), and BlackRock Advisors LLC (-48.2%). My stock analysis notes that this selling suggests a lack of confidence in the company, even with Apple shares plummeting down more than 40% since the company's high point.
Based on the lack of buying by the insiders and institutions, I would still be wary of buying Apple at this point. In my view, Apple is more of a trading opportunity than a buy-and-hold.
The reality is that following where the professional money is flowing gives us another tool to evaluate the stock market and get a sense of what is happening.
The concept of following the money of institutional investors is rooted in the belief that these experts are likely to understand the company's situation more than anyone outside of the executive management group. My stock analysis suggests that by looking at the flow of money from institutional investors and monitoring what stocks they are buying, you can get a much better sense of what stocks may be in favor at that time. This especially holds true for the top-ranked institutional investors and money managers who are tops in the money management business, because they are the very best and produce the top returns for their clients.
According to my stock analysis, we are seeing selling of other key technology stocks, including heavy selling in Netflix, Inc. (NASDAQ/NFLX) with 12.8 million net shares sold, or down 32.0% in institutional ownership, and Hewlett-Packard Company (NYSE/HPQ) seeing a 5.1% drop.
Facebook, Inc. (NASDAQ/FB) may be set for a rally. Institutions are buying this stock with the net purchase of 365.3 million shares quarter-on-quarter—an increase of 24.2% in institutional ownership. Keep an eye on Facebook: the pro money is investing, and that's bullish.
On the Dow Jones Industrial Average, the majority of companies are seeing institutional selling, which is not surprising following the rally. An exception is consumer products company Johnson & Johnson (NYSE/JNJ), of which 36.3 million net shares were bought by institutional investors over the past quarter-to-quarter, up 1.9% in institutional investor ownership. There is also some minor buying surfacing in Boeing Company (NYSE/BA).
This Article The Dow Is at a Record High, but Institutions Are Selling was originally published at Investment Contrarians

The following article is from one of our external contributors. It does not represent the opinion of Benzinga and has not been edited.
Posted-In: Markets Trading Ideas
View Comments and Join the Discussion!