Stocks May be Fluctuating, but Overall They are on a Solid Path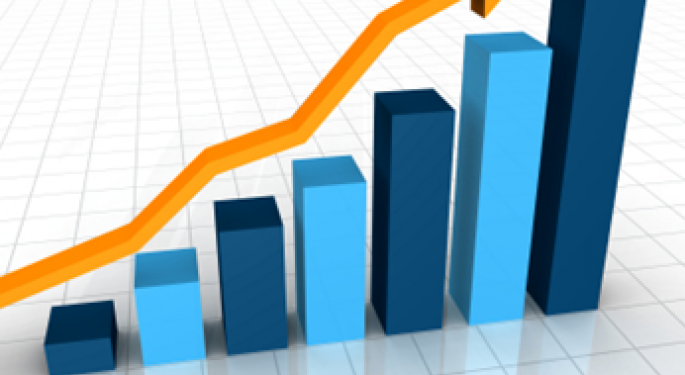 Just last week stocks had climbed to record levels as data showed an unexpected spike in retail sales. That was some extremely exciting news, but over the last several days we have seen an up and down pattern that for many can be a little disheartening.
Pizza Hut and KFC reported a decrease in sales in China throughout April, but Corning Inc (NYSE: GLW) rose 1.1 percent. Theravance Inc also saw a spike of an incredible 15 percent, but this came as Elan Corp. agreed to pay a messily $1 billion for a share on new drugs.
The Dow Jones also saw a 0.2 percent decline. Simultaneously S&P 500 stocks 30 day average was 22 percent below the norm. Frank Braddock, senior portfolio manager had a few words on the subject, "It's obvious that this market has got legs, the question is whether the economy is going to grow some legs to support stocks going forward."
While the sales in retail is the upside to what we are seeing with the stock market, the 0.1 percent increase came after a 0.5 percent decline in March. Some of have reported that U.S. companies held their inventory in check through March, just to watch sales fall be more than that had in the last 3 quarters. This to some is an indication that demand will increase, forcing orders to rise.
To put this into a perspective that we can appreciate, we all realize (or should) that stocks will go up and down as the days go by. Looking at the big picture is much more appealing to me. It's less about what happens from one day to the next, but what happens from one year to the next.
I remember the late 90's being a time of wealth, even for those who fall into our lower classes were living well in comparison to what we saw the first decade of the 21st century. It seems as if in 2013 we are seeing returns from the bull market matching those from the late 90s.
Although the S&P 500 has seen a below average month, they have seen a 26.2 gain every year since 2009. According to Bloomberg, shares trade at 18.6 times the annual profit, while this is below the 25.7 number of the 90's, it seems we are moving in a positive direction annually.
For some who have seen this trend before, extreme caution comes with this positive annual growth. Maybe it's that investors are lacking in confidence due to the price-earnings ratio or maybe it's because the last time returns climbed to this level, the bubble burst and stocks saw a loss of over $5 trillion.
Paul Zemsky who is based out of New York and the head of asset allocation for ING Investment management held a phone interview just last week and made some very big comments. "The size of this rally's not what keeps me up at night, that was a tremendous rally then, too, but I'm not getting all nervous based on the size of the rally this time, because we're not there yet in terms of valuation."
It seems that there may be many who are thankful for the overall increase in the value of our dollar over the last few years, but many more remember that the higher you climb, the harder you fall. It's important to keep a logical perspective on what is possible when investing your money into stocks.
No matter how your return is looking, it is important to continue to look for trends in the market. Putting money into companies like Epcor that cater to eco-friendly living is a big trend that is likely to show big returns in the future. This is the type of investment I like to make, one that will help me through any rise or fall in the economy. With green living the way of the future, green companies are a sound investment daily and long term.
The following article is from one of our external contributors. It does not represent the opinion of Benzinga and has not been edited.
Posted-In: Markets Trading Ideas
View Comments and Join the Discussion!