Is eBay a Real Powerhouse on the Stock Market?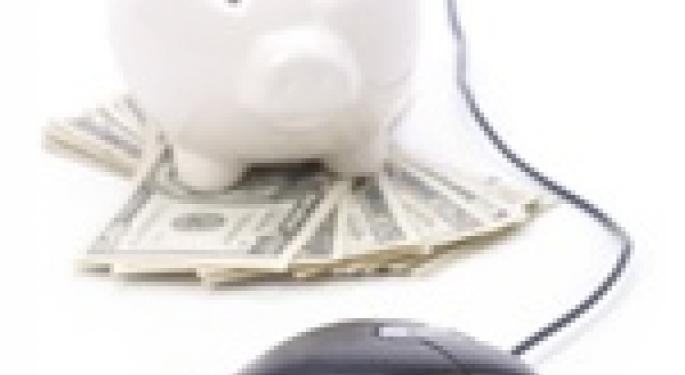 By Sasha Cekerevac for Investment Contrarians
When it comes to the recent pullback in the market, many people naturally wonder if this is the time to start accumulating certain companies, especially technology stocks. The answer, of course, is far more complicated. Obviously, each individual must assess their goals and risk profile before considering any investment.
My goal is to be on the lookout for companies that can continue to grow corporate earnings over a very long period of time. One area that has interested me for a long time because of this ability to grow corporate earnings is in technology stocks.
Recently, many technology stocks have not benefited from the surprisingly strong rally in the overall market. A major reason for this is that many investors are focusing on dividend yield rather than corporate earnings growth. Additionally, many technology stocks are not seeing exceptional corporate earnings growth, as the global economy is still somewhat weak.
Not all technology stocks are the same. There are vast differences between technology stocks, and an investor needs to dig deep when evaluating which firms can grow corporate earnings over a full decade.
One company that I have liked over the past few years has been eBay Inc. (NASDAQ/EBAY). While many people believe eBay is still primarily a place to sell your knick-knacks, they're wrong. During the latest quarter, the company reported total revenues were up 14% year-over-year. (Source: "Q1 2013 financial highlights," eBay Inc. web site, April 17, 2013.)
eBay is transitioning into a real powerhouse through its "Marketplace," which is where retailers sell fixed-price online goods. The company is now looking at adding same-day delivery services for these goods, taking on other online retailers, such as Amazon.com, Inc. (NASDAQ/AMZN).
PayPal is also a division of eBay that continues to grow rapidly, with revenues from this unit growing 18% during the latest quarter. The total number of PayPal customers is now approximately 128 million, with five million added during the latest quarter.
eBay is now looking to expand its PayPal brand and go offline. The idea is that consumers can buy goods in physical stores using PayPal instead of a credit card. Even if PayPal grabs just a sliver of this huge, multibillion-dollar pie, it would be very significant, and it could become a driver for corporate earnings growth.
Let's face it: the future is not in cash transactions, but through online electronic payment methods.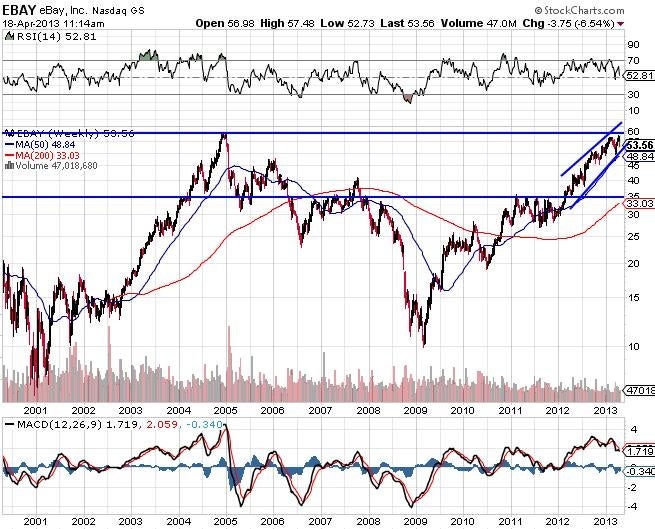 eBay's share price did decline on lower second-quarter corporate earnings guidance. The company stated that Europe would weigh down revenue growth during the second quarter. However, these are shortsighted concerns. When looking at the big picture, the future for this company is very bright.
The stock chart above extends back until 2000, and shows that the stock has clearly been a strong performer since the lows of 2009. Once again, it pays to remember that it's always best to have a long-term view when making any investment and adjusting one's portfolio is a must. Buying and holding any stock or commodity is a huge mistake; just looking at the stock chart above, it becomes clear that an investor must continually adjust their position.
Technology stocks can come and go as consumers shift their personal preferences; however, few companies have the ability to grow revenues and corporate earnings over the next decade like eBay.
With eBay's stock near its all-time highs, I would not be purchasing shares at their current levels; instead, I'd wait for a pullback to a more attractive price point. I believe it is clear that corporate earnings from eBay will continue to be strong and could possibly outperform many other technology stocks over the long term.
In fact, even if we look at firms beyond technology stocks, how many companies in your portfolio are growing revenues at a double-digit rate? Over the long run, eBay's double-digit revenue growth should benefit corporate earnings once the company has spent enough funds on business expansion. Have patience, and wait for this company to pull back to a more attractive level.
This Article Is eBay a Real Powerhouse on the Stock Market? was originally published at Investment Contrarians
The preceding article is from one of our external contributors. It does not represent the opinion of Benzinga and has not been edited.
Posted-In: Markets Trading Ideas
View Comments and Join the Discussion!