Why Earnings Outlooks Are More Important Than This Quarter's Results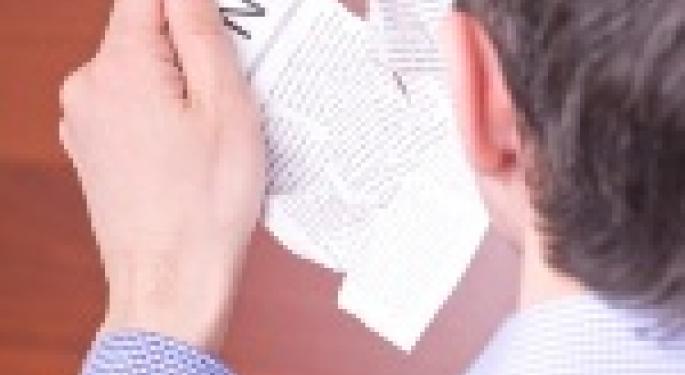 By Sasha Cekerevac for Investment Contrarians
With the financial reporting season underway, one of the most important considerations is not the most recent quarter's earnings results, but the earnings outlook companies are giving for the remainder of the year.
One market sector that I like to watch is the retail area that sells to the average American, as this helps give a clear picture of the underlying fundamentals of the U.S. economy.
Family Dollar Stores, Inc. (NYSE: FDO) just released its earnings outlook for the remainder of the year, and it was far below what analysts had expected. In January of this year, Family Dollar offered an expected earnings outlook for fiscal 2013 of approximately $4.20 per share; this has now been reduced to $3.93 a share. (Source: Burritt, C., "Family Dollar Cuts Profit Forecast as Shoppers Cut Back," Bloomberg, April 10, 2013.)
During the second quarter, Family Dollar reported that same-store sales increased by 2.9%, for stores open longer than 13 months, also coming in below estimates. This company is interesting, as the lower-income market sector is showing continued weakness.
The significant decline for the earnings outlook of each company tells me that all of this quantitative stimulus is doing little to help the average American, as this market sector is not showing any signs of improving.
The lack of job creation and the increase in the number of people pulling out of the jobs market are now having a direct impact on the market sector that caters to millions of people. With continued economic weakness, there is little hope that the earnings outlook will improve anytime soon.
It is actually quite shocking, considering the trillions of dollars pumped into the economy, to see what little we have to show for it. Millions of Americans remain unemployed, and they are now pulling back on even the smallest purchases.
To me, this is a warning that any market sector catering to the average American will see difficulty in increasing its earnings outlook for the remainder of the year.
While there are certain parts of the economy that are benefiting from quantitative easing, including the automobile market sector and the housing market sector, these are necessities, not discretionary spending. If your car doesn't work and you have a job to which you must commute by car, you have no choice but to fix it or buy a new one.
But a market sector that is purely discretionary might see considerable difficulty in increasing their earnings outlook as long as millions of people remain unemployed, and even those with a job are uncertain about their future.
While Family Dollar did sell off on the news, I still would not invest in this company at this time. We would need to see a significant increase in economic activity that benefits everyone before the lower-income market sector improves.
However, I think the higher-end retail market sector could see an improvement in its earnings outlook, as asset prices continue their upward movement. Wealthier people have more of their money tied into assets that continue to rise, including stocks, and this should benefit many companies that cater to this market sector.
Remember, investing is all about picking stocks and the market sector that has the best possibility to increase its earnings outlook. There are many beneficiaries from the current monetary policy. We've already seen homebuilders rise massively over the past couple of years, and there are many derivatives of rising asset prices.
Companies that focus on the luxury market sector should continue to outperform firms that focus on the lower-end market sector. Being a successful investor is about trying to put your portfolio together in such a way that it has the highest probability of increasing your wealth. Focus on the many benefactors from the current monetary policy program and consider these firms as part of a well-diversified portfolio.
This Article Why Earnings Outlooks Are More Important Than This Quarter's Results was originally published at Investment Contrarians
The preceding article is from one of our external contributors. It does not represent the opinion of Benzinga and has not been edited.
Posted-In: Markets Trading Ideas
View Comments and Join the Discussion!