Is the Only Safe Investment Your Piggy Bank?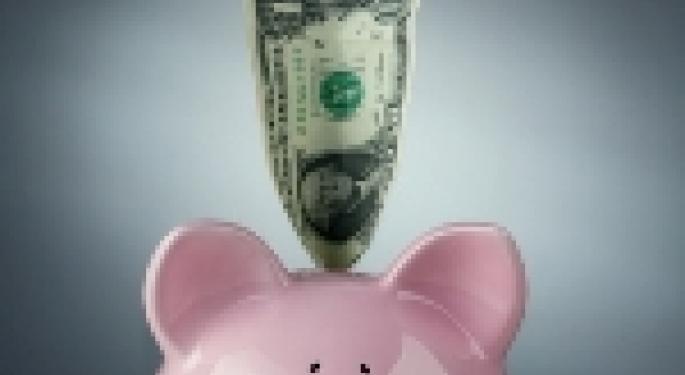 By George Leong for Investment Contrarians
I think maybe it's time to start putting your money in the piggy bank to avoid any major investor mistakes.
With the Dow and the S&P 500 at record highs, I'm trying to find reasons to want to buy in this market. However, I'm finding it difficult to even want to buy, as I still feel a stock market correction is on the way.
I'm sorry, but I can't tell you when this will happen or by how much. All I know is that you need to be careful to avoid possible investor mistakes.
We have the first-quarter earnings season that started on Monday, and if you believe the early estimates, there will not be many happy traders and investors out there.
FactSet estimates earnings will contract by 0.7% in the first quarter, followed by an overly optimistic second half, predicting an explosive earnings rally of 10.1% and 15.6% for the third and fourth quarters, respectively. I'm not sure why FactSet is this giddy, but in my view, for these growth metrics to emerge, all of the stars will have to align.
I'm still not convinced corporate America is set for another growth spurt. The Federal Reserve knows this. Based on the recent non-farm payrolls reading showing a dismal 88,000 new jobs, I just can't comprehend how the country is set to achieve revenue growth.
I may sound like a downer, but I consider myself more of a realist who wants to avoid investor mistakes.
And Main Street has also appeared to have forgotten the debt, while the government and Congress are still battling it out to come up with a resolution to the budget cuts and runaway national debt. The deadline for the debt limit has been extended twice, and here we are; the Fed continues to print money and support the artificial economy, driven by stock market wealth, which could lead to investor mistakes down the line.
I'm sure the 300,000 newly minted millionaires have already written to the Fed, thanking it for keeping interest rates at their record lows. I say ease off a bit on the gas pedal and stop flooding America's monetary system with easy money that will inevitably cause investor mistakes down the road when rates begin to ratchet higher—and the truth is that rates will rise again.
So, we have earnings and America's debt problem here, and across the Atlantic Ocean, there remains a financial crisis in the eurozone and non-eurozone countries, which ultimately impacts the demand for U.S. exports. The recent bank issues in Cyprus were a warning, and there's news the main opposition party in that country wants out of the euro. Stay tuned, and you may avoid investor mistakes.
And the problem in the eurozone is not going away anytime soon, as the region is stuck in a recession, marked by extremely high unemployment. The problem is how the countries will get out of this mess, while also making sure that economic growth and job creation continue.
So, when I say that maybe it's time to put your money in the piggy bank, it's meant to be a real warning to avoid potential investor mistakes.
Returning to the safety of government-issued bonds is making more sense. Putting money in the piggy bank may also be an alternative, given the low yields, and in the process, it may help you to avoid making any investor mistakes.
This Article Is the Only Safe Investment Your Piggy Bank? was originally published at InvestmentContrarians

The preceding article is from one of our external contributors. It does not represent the opinion of Benzinga and has not been edited.
Posted-In: Markets Trading Ideas
View Comments and Join the Discussion!