Trading Update March 25th
Market makers & the smart money deserve a standing ovation for the manipulation seen today in the trading session. Premarket action was unusually weak considering we had gotten the deal from Cyprus. In any market reversal folks, smart money MUST push stocks heavily in one direction and then pull the rug under everyone hence why the Charlie Brown mid-day post. So today, they were able to rip stocks like Apple (NASDAQ: AAPL), Google (NASDAQ: GOOG), Visa (NASDAQ: V) and the Casinos to get people to buy into the fact that we were going to attack that all time high from 2008. Meanwhile, the plan was to pull the rug and the real trade was on the short side.
The Financials really paid out through some of the close to the money weekly puts on Bank of America (NASDAQ: BAC) & Citigroup (NASDAQ: C). It's not a surprise that the move lower on the Financials has been extremely difficult to sit through and manage day to day.
Markets tried to rally around 1 PM but it looks like we're going to close near the lows of the session which could set up for further continuation tomorrow. With this market, however, you can't be too bias either way because the light volume direction can change any minute. Time frames for trades must be cut down and your overall trading size as well. Many traders got hit pretty bad today after being unable to decipher where the real money was being made. Most traders got stuck going long off the open including myself, getting a bit too cocky on the Apple (AAPL) long through $470.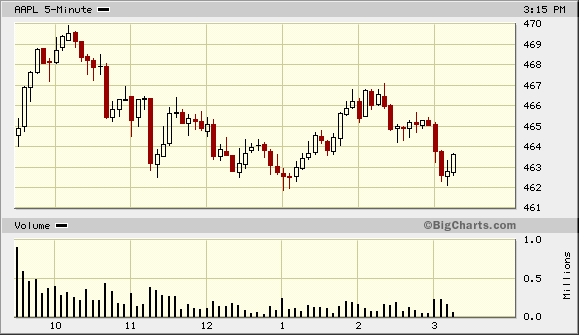 Off the open, as you can see above, the bullishness from Friday's close continued and brought this stock up to $470 where it stalled out before the markets dropped out. The action around 9:30, however, caused me to get shaked out of my overnight position in these $470 Weekly Calls expiring this Thursday.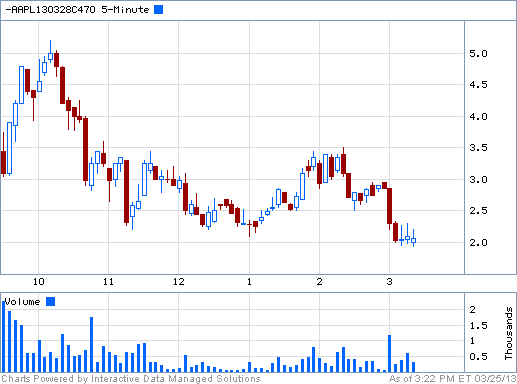 Keep in mind, the above option closed around $3 yesterday and, despite the stock gapping up about 3 + points, this option barely opened higher. I held about 1200 contracts of this overnight and started bailing as soon as the market opened just to make sure I wouldn't get caught in any kind of premium drainage from a quick sell-off. The stock was able to hold, however, and soon shot through $465 which is when I decided to get back in heavy and build another position at a higher cost unfortunately. I was up about $160 grand when the stock hit $470 and then what transpired next I simply was not prepared for: a big selloff. Needless to say, I saw my profits dwindle down to zero and then took a loss on the overall position.
"Some you win… And Dim Sum you lose!" - Romeo Must Die
Stick with Lucci!
The preceding article is from one of our external contributors. It does not represent the opinion of Benzinga and has not been edited.
Posted-In: Markets Trading Ideas
View Comments and Join the Discussion!