Old Fashioned Defense
Bernanke has spoken and the market has listened. The FOMC rate decision yesterday came as no surprise but voices were heard over the last few days, predicting a change in language and maybe hints of dialing back QE in the near future. According to the text of the statement, unemployment remains "elevated" and growth is only "moderate". With only one dissenting vote, the committee said that not only will they continue with $85 Billion per month of QE, but also that it "..expects that a highly accommodative stance of monetary policy will remain appropriate for a considerable time after the asset purchase program ends and the economic recovery strengthens."

This must be great news for the markets, right? I mean we are at that perfect point, where there is growth and improving profits at the same time as the Fed is pumping in liquidity. The US stock market must have roared. Not so much. The major indices were up, ranging from the Nasdaq's gain of 0.78% to the Dow Jones' of 0.39%, but not really roaring. At the time of writing all major indices are indicating a lower opening this morning. The somewhat overworked analogy of the market as an addict, dependent on the Fed's liquidity drug, would seem to be apt. As with any addiction, it appears that the effects of the drug are becoming muted. A high dose is expected and even needed to retain normality. Many investors, like me, find this worrying.

The problem, however, is what to do about it? The market is still not looking wildly overbought at a P/E ratio of around 18 versus an historical mean of 15.49 based on the last 12 months earnings, especially considering a growing (albeit slowly) economy. Even with the Dow hovering around record highs and the S&P approaching them, there would seem to be plenty of upside should economic data remain positive. Simply selling and moving to cash could be expensive in the short to medium term.

For new money I think traditional defensive stocks in areas such as consumer staples, pharmaceuticals and utilities make a lot of sense. They give the chance of participation in any continued rally, while potentially retaining some value should the party come to an abrupt end. Most of them also pay a decent dividend that can be salted away to take advantage of any drop. On a purely anecdotal level it would seem that there are many who have made a lot on volatile, cyclical stocks, and are looking to take some profit and move to safer ground, so I expect a period of relatively good performance from defensive sectors.

In the consumer staples sector, Kraft Foods Group (KRFT) is my pick. The separation of the international business makes KRFT, the North American part of the business, less vulnerable to the Euro-zone or Chinese upheaval that could be a worry for other large packaged food companies. A 3.88% dividend yield is useful, and if the sector is good enough for Warren Buffett (see Heinz: HNZ), then it is good enough for me. To balance that with some international exposure, Phillip Morris International (PM) may be a good idea for those without a moral objection. The stock has risen consistently over the last two years (see below) and offers a 3.72% yield.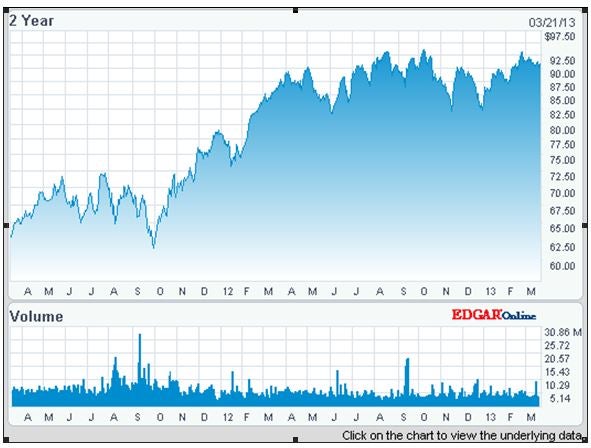 In the pharmaceutical sector you aren't looking for the next big thing, rather proven, solid performance throughout good times and bad. Big pharma standbys such as Pfizer (PFE) and AstraZeneca (AZN) fit the bill. As for utilities, Duke Energy (DUK)'s purchase of Progress Energy seems to be working out, and a more friendly regulatory environment in their home state of North Carolina could well be beneficial over the next few years. A 4.35% yield doesn't hurt either.

The market's muted reaction to the unlimited continuation of QE and ultra low interest rates is understandable, but could be construed as worrying. For new money, a little defense may now be in order.
The following article is from one of our external contributors. It does not represent the opinion of Benzinga and has not been edited.
Posted-In: Markets Trading Ideas
View Comments and Join the Discussion!