Social Market Analytics Looks at Sentiment Surrounding the Buyout of Dell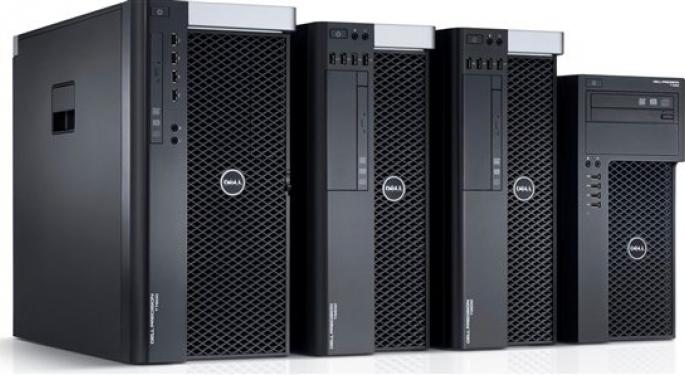 This week, Social Market Analytics (SMA) looks at Dell Inc. (NASDAQ: DELL), a provider of integrated technology solutions for the information technology (IT) industry worldwide. Dell shareholders received a boost on the afternoon of January 14 as news emerged that the company was in talks to implement a levered buyout, taking the company privateat $13.50 to $14.00 per share. The stock jumped 10%, triggering a brief trading halt as the rapid move triggered a NASDAQ circuit breaker shortly after 2 PM Eastern Time. The coordinator of the deal is Silver Lake Management LLC and would be the largest buyout of a tech company since 2007. Some concerns emerged that the overall weakening of the PC market could jeopardize the deal, but as the week progressed, completion of the deal is believed to be imminent, possibly as soon as January 22. During the week, DELL appeared on SMA's morning Flash Report, which identifies stocks, in the pre-market, with extreme sentiment levels that are likely to trade with high activity during the upcoming session. On the morning of January 15, our analytics engine identified DELL as a stock with high positive sentiment from the universe of stocks tracked by SMA. SMA's daily and intraday sentiment metrics provided indication of positive price trends for DELL as the market integrated the prospects of the private equity buyout of the computer maker.
On the afternoon of January 14, Dell's intraday S-Factor signature registered a rapid increase towards positive levels, moving from Neutral to 4.2 (Extreme Positive) within a 15 minute window shortly after 2 PM Eastern Time. This increase was coincident with a rapid increase in the rate of social media activity for DELL from near dormant that morning to a rate of about 600 indicative tweets per hour commenting on the stock. In the pre-market of January 15, SMA's S-Score and S-Mean metrics for DELL showed sustained positive sentiment with an S-Score level of 4.18 (Extreme Positive) and a continued increase of social media activity, 25% above the peak of January 14 as measured by SMA's S-Volume metric. DELL opened the January 15 session at $12.72 and continued to rally, closing at $13.17 a gain of 7.16% on the day. As the week progressed, DELL's S-Mean metric maintained a positive up slope, leveling off at 1.92. As the week ended, market sentiment for DELL returned to neutral levels, but the stock retained its gains, closing the Friday session at $12.84, a net gain of 18.1% for the week.
Social Media data are noisy and complex. A single metric is insufficient to understand sentiment behavior over time. Our S-Factors are a family of metrics, including volatility, trend and volume measures, designed to provide a complete view of the social media signature for each security tracked in SMA's database. SMA's processing engine continuously updates our S-Factors, capturing overnight and pre-market sentiment activities. Clients receive sentiment reports, prior to the U.S. market open, and intra-day sentiment estimatesfor tracked stocks, on-demand. Clients have access to our Sentiment Alerts feature, which provides real-time notification of changes in sentiment metrics for stocks on a client's customized watch list. We invite the reader to visit our website; investigate our market sentiment metrics for DELL, other stocks, industry sectors, and market indices; participate in our FAQ forum; and sign up for our Flash Report and Newsletter.
The following article is from one of our external contributors. It does not represent the opinion of Benzinga and has not been edited.
Posted-In: Markets Trading Ideas
View Comments and Join the Discussion!