Social Market Analytics Looks at Sentiment for Best Buy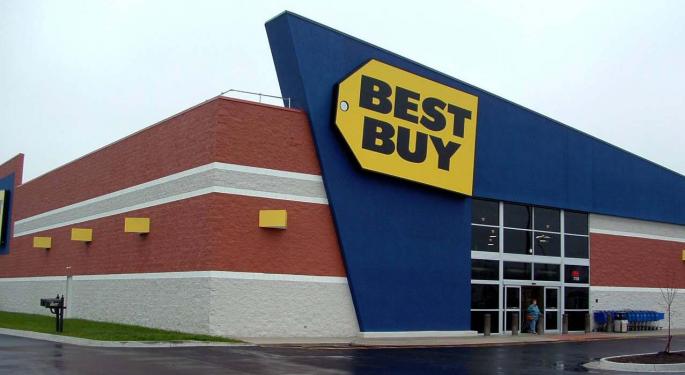 This week, Social Market Analytics (SMA) looks at Best Buy Co., Inc. (NYSE: BBY), a retailer of consumer electronics, computing and mobile phone products, entertainment products, home appliances, and services in the United States, Europe, Canada, and China. Shareholders of Best Buy saw the stock enter a steep decline ahead of Thanksgiving and the all-important Black Friday kickoff to the holiday shopping season. Shares of BBY fell 13% on November 20 as the company reported third-quarter earnings that showed revenues fell 4% and recorded adjusted earnings of $0.04 per share that were far below analyst expectations of $0.12 per share. Analysts raised concerns about Best Buy's turnaround efforts, resulting in lowered price targets, and the effect the big earnings miss will have going forward on the completion of such efforts.During the week, BBY appeared twice on SMA's morning Flash Report, which identifies stocks, in the pre-market, with extreme sentiment levels that are likely to trade with high activity during the upcoming session. On the morning of November 20, our analytics engine identified BBY as a stock with extreme negative sentiment from the universe of stocks tracked by SMA. SMA's sentiment metrics provided early indication of negative price trends for BBY as traders integrated the company's financial performance and revised outlook for the stock.
As early as November 15, SMA's S-Score and S-Mean metrics for BBY began a downward trend. In the pre-market of November 20, BBY's S-Score posted a level of -3.75 (Extreme Negative), a notable drop from neutral levels seen 2 days prior and coincident with a five-fold increase in its S-Volume metric indicating unusually high social media activity for the stock. BBY closed the November 20 session at $11.96 for a loss of 13% on high volume. The behavior of SMA's S-Factors measures market trading sentiment and can provide actionable signals for upcoming price movement. Negative levels of market sentiment continued in the pre-market of November 21 with BBY's S-Score at -2.89 (High Negative) and persistent high social media activity as indicated by S-Volume. BBY open lower at $11.83 and continued to sell off to close at $11.57, a loss of 3.26% on the day. As the week ended, market sentiment for BBY returned to neutral levels, but the stock did not rebound, closing the half-day Friday session at $11.70, a net loss of 14.9% for the week.
Social Media data are noisy and complex. A single metric is insufficient to understand sentiment behavior over time. Our S-Factors are a family of metrics, including volatility, trend and volume measures, designed to provide a complete view of the social media signature for each security tracked in SMA's database. SMA's processing engine continuously updates our S-Factors, capturing overnight and pre-market sentiment activities. Clients receive sentiment reports, prior to the U.S. market open, and intra-day sentiment estimatesfor tracked stocks, on-demand. Clients have access to our Sentiment Alerts feature, which provides real-time notification of changes in sentiment metrics for the stocks on a client's customized watch list. We invite the reader to visit our website; investigate our market sentiment metrics for BBY, other stocks, industry sectors, and market indices; participate in our FAQ forum; and sign up for our Flash Report and Newsletter.
The preceding article is from one of our external contributors. It does not represent the opinion of Benzinga and has not been edited.
Posted-In: Markets Trading Ideas
View Comments and Join the Discussion!