Cash Flow Shenanigans: Salesforce.com Edition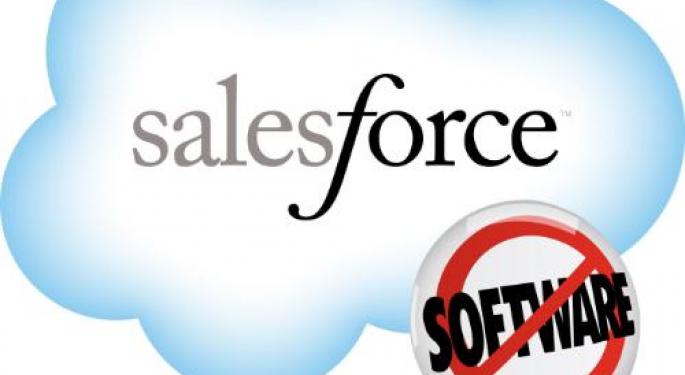 "One can't say that figures lie. But figures, as used in financial arguments, seem to have the bad habit of expressing a small part of the truth forcibly, and neglecting the other part, as do some people we know."
- Fred Schwed, Author Where Are the Customer's Yachts?
Warren Buffett warned us long ago to "Beware of geeks bearing formulas." This particular case will show us why we should equally "Beware of insiders bearing stock options."
The Company
Is Salesforce.com Inc. A Wall St. darling having posted both rising revenues and cash flow from operations (as is emphasized, we shall see why;) in each of the past 5 years.
Numerous advisory firms have recently raised their price targets on CRM and Jim Cramer gave it a "buy, buy, buy" on his CNBC program "Mad Money" on Sept. 14, 2012. So what is wrong you ask? Well, plenty from an accounting standpoint.
Sales & Accounts Receivable Divergence
The importance of an accounts receivable and sales analysis cannot be understated as it can provide valuable clues as to whether a company is merely shifting inventory from the corporate level to its customers due to aggressive sales campaigns or by granting liberal credit terms and costly incentives.
Here is an analysis of CRM's sales and accounts receivable for each of the past five years.

Looking at the above figures, we can see a negative sales/accounts receivable divergence appear and accelerate over the past two fiscal years. This bears further investigation, lets look at the same figures except this time on a quarterly basis for the past five fiscal quarters.

We now turn our attention to a far more onerous and troublesome accounting problem at CRM and one which should put all intelligent investors on alert. The following figures depict a deteriorating real earnings picture at the company.

Net Income & Cash Flow Divergence
Exhibit III shows us the large discrepancy between accrual based net income and cash based cash flow from operations.

As we can see, the smallest divergence is still $156 Mil. (2010) while the largest is a whopping $627 Mil. (2012)
Such a wide gap indicates lack of quality of earnings or as we will show in this instance, lack of quality of cash flow from operations.
To what do we attribute such a large discrepancy between these two all important figures? That's simple:
-Stock-Based Compensation Expense
- Changes in Working Capital
Of course, as we know accrual based earnings are always adjusted for non-cash items. In this case, both of the two items noted above are included in cash based cash flow from operations. Since changes in working capital are simply net changes to assets and liabilities and can generate cash via collection of receivables and the extension of payables, they may be included in CRM's operating cash flow numbers. But since the issuance of stock obviously does not consume cash they should not be included in CRM's operating cash flow computation.
If we clear the cash flow from operations picture of these distortions and deduct the large compensation expense caused by the granting of stock options to employees and executives alike and fully account for the changes in working capital, a much less rosy picture emerges:

As per CRM's 2012 10-K filing, we can count on much more of the same in future years:
"As of January 31, 2012, we had an aggregate of $820.6 million of stock compensation remaining to be amortized to expense over the remaining requisite service period of the underlying awards. We currently expect this stock compensation balance to be amortized as follows: $296.5 million during fiscal 2013; $256.4 million during fiscal 2014; $196.1 million during fiscal 2015 and $71.6 million during fiscal 2016. These amounts reflect only outstanding stock awards as of January 31, 2012 and assume no forfeiture activity. We expect to continue to issue stock-based awards to our employees in future periods, which will increase the stock compensation amortization in such future periods."
When we consider this information against the backdrop of CRM's already rich valuation:

The future for Salesforce.com looks "cloudy" indeed.
The preceding article is from one of our external contributors. It does not represent the opinion of Benzinga and has not been edited.
Posted-In: Markets Trading Ideas
View Comments and Join the Discussion!