S&P 500 Short Squeeze; ESZ Rallies 25 Handles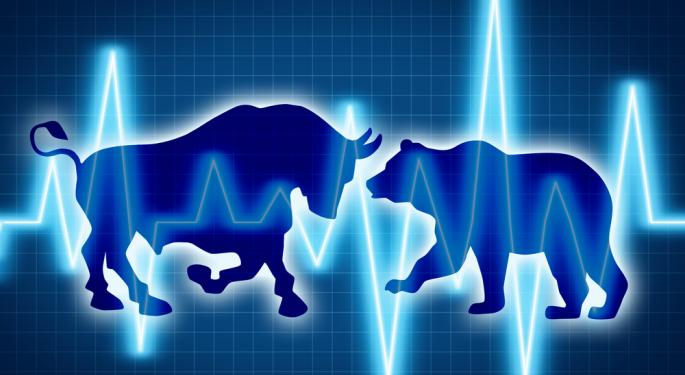 By Danny Riley
The S&P 500 futures on the CME floor took off to the upside yesterday backed by a batch of good news; both employment and manufacturing reports topped estimates and consumer confidence jumped to a four-year high.
After making a 1398.50 low in Globex, the S&P futures rallied back to unchanged just before a barrage of economic releases that started at 7:30 to 9:30 Central time. The SPZ opened at 1410.25, nearly 12 handles off the overnight low, and then started moving higher. Many locals in the S&P pit sold the open, but as the futures continued higher the premiums between the S&P cash and S&P futures set up index arbitrage buy programs, and with so many buy stops above the market the algorithms chased the upside stops and in came a big buy program that pushed the futures up to the 1423 level, up 24.5 handles off the overnight Globex low. The S&P cash closed up 1.1% with 8 of the 10 S&P sectors closing higher.
Many traders on the floor of the CME Group said they were thrown off by the ADP revision and when it did not come in as expected the S&P futures started a relief rally. Other floor traders said that they felt the S&P was oversold and that Obama was gaining in the polls. This morning the Labor Department may provide some more clues to how the economy is doing just a few days before the presidential election.
For the last few days we have pointed out that we thought that S&P was trying to hold the 1400 (big figure), but after being down 7 out of the last 9 trading days the rally in the S&P was swift. With many of the big investment firms fully hedged, you could see early on that there was a big lack of selling. Most of the smart money remains bearish despite yesterday's rally. With expectations low going into the 3Q earnings and an extremely bearish sentiment, the index markets have been looking for a turning point and when the numbers started coming across beating expectations, the S&P futures did not hesitate on the upside. At the end of the day the S&P had its best day in 7 weeks.
It's all about the jobs numbers: According to the Reuters survey of economists, employers are expected to have added 125,000 jobs to payrolls in October, up from 114,000 in September. The unemployment rate is forecast to have inched up to 7.9% after a dramatic drop of 0.3 percentage points in September. Payroll processing firm ADP reported stronger private sector employment growth than expected for October. While the ADP report is not a perfect indicator for today's jobs report, there is hope the numbers could come in higher than expected. Moody's Analytics is expecting the nonfarm payroll number to come in around 120,000. Today's report is the last from the Labor Department before Tuesday's presidential election. We think the number comes in higher.
S&P FUTURES: Out of the last 11 trading days the ESZ has been down 7, up 3 and unch'ed 1.
Our view:
Positive economic numbers and new money going into stocks on the first trading day of November helped pave the way for an over 1% up move yesterday. A very oversold S&P holding critical support at the 1400, a higher low and buy stops above helped set things in motion on the upside yesterday. One of the rules we follow is that it takes days and weeks to knock the markets down and only one to bring them back. Today's job numbers could be the key to November. Economists expect today's jobs report to show 125,000 new nonfarm payroll jobs and a steady unemployment rate of 7.8%. Our view is we see better numbers and higher prices. There is a big line of buy stops that start above 1428.70 that run to 1435, and that's where we think we are headed. As always, keep an eye on the 10-handle rule and please make sure to use stops.
■ It's 6:00 a.m.and the ESZ is down 1.75 handles at 1421.50, crude is down 80 cents at 86.29 and the EC is trading 1.2890, down 52 ticks.
■ In Asia 9 out of 11 markets closed higher (Shanghai Composite +0.60%, Hang Seng +1.33%)
■ In Europe 7 out of 12 markets are trading modestly higher (CAC -0.21%, DAX -0.03%).
■ Today's headline: "US Stocks Seen Flat Ahead of Job Report."
■ Economic calendar: Today: Non-farm payrolls, factory orders, Fed's Williams speaks, Wynn shareholders meeting; earnings from Chevron.
■ VOLUME:1.7mil ESZ and 8.5k SPZ traded
■ SPREADS: 102 SPZ/H spreads traded
MrTopStep Closing Print Video:http://www.mrtopstep.com/closing-print-10-31-2012/
Brian's Thursday recap: It was a busy night / morning for news. China's PMI report continued to show stabilization and provided some overnight footing as Eurozone was a bit of a drag following their regional economic data. Following a number of US economic reports the equities were able hold the Globex high. With many people stranded due to transportation problems, power outages, no water and the employment numbers due out tomorrow as well as Tuesday's election trading was at a minimum following todays initial RTH's surge.
Morning observations: Posted on Wednesday morning by imcyrus at (10:25:22): JPM strong and this morning JPM was up $1 by 10:30ish as the BKX was up nearly 1.5%. UBS + 3.5%% / HOD / up huge this week / on back of firing 10k workers restructuring plan / last Friday's press release. MTS (12:15:23): NQ remains the strongest of the sisters today up 1.3% from 3:15pm close compared to ES up 1% and TF up .7%.
In the spoos, the 1417 area pivotal. Above the 1423 area we are looking at 1431 area as resistance. On the downside, 1410.50 area followed by 1406 area.
Real Clear politics has Obama with 201 Electoral College votes and Romney with 191 Electoral College votes. 146 are toss ups, meaning the race is up for grabs. There is a comfortable lead for the Republicans to hold control of the House, but the Senate could be in play with Democrats having 46 solid seats and the Republicans holding 43 solid seats and 11 seats in the toss up category. Fiscal cliff – tick tock…
Jobs # Andy Busch of BMO Capital Markets says "it would be shocking to see a further improvement in US employment data tomorrow given the dramatic drop of 0.3% in the unemployment rate last month." he said. So a 8.0% in the unemployment rate and a non-farm payroll below 125k "should bring not only a test of key support for the S&P 500 at 1395, but also a test of the EUR 200 day moving average at $1.2835," he says. MNI's median estimate for NFP is +125k (range +90k to +150k), with the unemployment rate expected to edge up by 0.1% to 7.9%.
MTS video: http://www.mrtopstep.com/11-1-2012-gary-sandlund/
Thursday started with 292k ESZ and 1.5k SPZ traded on Globex, trading range 1398.50 – 1409.70 / Wednesday's RTH's, pit range was 1400.70 – 1414.50, settled at 1406.80 down .8 handles. The RTH's gapped 3.5 handles higher following some well received economic data both abroad and domestically. Following the 1410.00 – 1410.50 opening range the spoos traded a low of 1409.20, testing / holding the Globex high before popping up to 1413.50 by 8:35CT. At 8:52 the DJIA was up 100 points, DJT's were up 1 point, the VIX was down nearly 1 point and AAPL was up $1. At 9:00, consumer confidence checked in at 72.2 vs exp of 72.5 and the ISM was 51.7 vs exp 51.2 and up goes the equities. The spoos trade from 1414 area up to 1418.50 followed by brief sideways followed by a pop to 1421 and then clawed their way up to a new high of 1423.50 following the European close. Unfortunately, the volume dropped off over the midday trade and the price action found small pockets of trade. From approximately 10:45 until 1:00 the spoos were locked between 1423.00 and 1421.50 before a sell program lead the spoos to 1419 area as AAPL gave up it's $8 gains retesting unch, $595 area. More sideways trade followed, this time between the 1419 and 1421 area before punching through at 1:45ish to the upside, but failed to make a new daily high topping out at 1423 area before holding at 1419.50 area and popped back up. The spoos were trading in the 1421 are at 2:45 when the closing imbalance showed the broader market with $800M to the buy side with the Financials: $356.97M and the Industrials: $144.67M leading the sector imbals. The cash close traded 1422.50 area and went on to a new daily high of 1424.80 before settling at 1423.20, up 16.4 handles on the 3:15 futures close. At the end of the day the DJIA was up 136 points, the DJT's were up 82 points and the Nazzy's were up 44 handles.
________________________________________________________________________
YOU WANT A LOOK AT WHAT OUR TRADERS SEE EVERY DAY? SIGN UP FOR THE IM TRIAL AT http://mrtopstep.com/free/ IT'S THE REAL DEAL!
_____________________________________________________
Follow us on Twitter @MrTopStep http://twitter.com/mrtopstep
Sign up for our free mailing list at http://mrtopstep.com/ for full report.
DISCLAIMER: The information and data in the following report(s) were obtained from sources considered reliable. Opinions, market data, and recommendations are subject to change at any time. Their accuracy or completeness is not guaranteed and the giving of the same is not to be deemed as an offer or solicitation on our part with respect to the sale or purchase of any commodities or securities. MrTopStep, its officers, directors and its contributors may. in the normal course of business, have position(s) which may or may not agree with the opinions expressed in this report.
The preceding article is from one of our external contributors. It does not represent the opinion of Benzinga and has not been edited.
Posted-In: Markets Trading Ideas
View Comments and Join the Discussion!