Trading Alert for Social Networking Stock, FriendFinder Networks; Stock Trading up Following Earnings Release
POINT ROBERTS, Wash., June 7, 2011 - www.InvestorIdeas.com, a global investor research portal, specializing in sector research including tech stocks issues a trading alert for social networking stock, FriendFinder Networks Inc. (NasdaqGM: FFN). The stock was one of the top percentage gainers in morning trading, trading as high as $6.10 following recent earnings news. The stock is currently trading at $5.75, up 0.75 (15.00%) 11:42AM EDT.
FriendFinder Networks Inc. (http://www.ffn.com/) is an internet-based social networking and technology company operating several of the most heavily visited websites in the world, including AdultFriendFinder.com, Amigos.com, AsiaFriendFinder.com, Cams.com, FriendFinder.com, BigChurch.com and SeniorFriendFinder.com. FriendFinder Networks Inc. also produces and distributes original pictorial and video content and engages in brand licensing.
News: FriendFinder Networks Inc. Reports 33% Increase In Adjusted EBITDA to $27.2 Million In First Quarter 2011
Full news: http://finance.yahoo.com/news/FriendFinder-Networks-Inc-prnews-1239469117.html?x=0&.v=1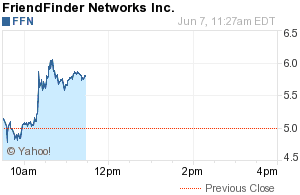 Visit the Investorideas.com Social Networking Stocks Directory preview page:
http://www.investorideas.com/TSS/Social_Networking_Stocks.asp
Become an Investor Ideas Member Today - Get 24/7 access to our exclusive members only - 13 stock directories; energy, renewable energy, mining stocks, water, biotech. Added bonus for members - New Tech Stocks Directory for Social Networking and Cloud Computing Stocks
Visit the Investor Ideas membership page to learn more at: http://www.investorideas.com/membership/
Sign up for the free investor news letter and get stock alerts in leading sectors! http://www.investorideas.com/Resources/Newsletter.asp
About InvestorIdeas.com:
InvestorIdeas.com is a leader in investor stock research by sector. Sectors we cover include; cleantech and renewable energy stocks, biotech stocks, mining and gold stocks, energy stocks, water, tech, defense stocks, nanotech, agriculture and gaming.
Disclaimer: Our sites do not make recommendations. Nothing on our sites should be construed as an offer or solicitation to buy or sell products or securities. We attempt to research thoroughly, but we offer no guarantees as to the accuracy of information presented. All Information relating to featured companies is sourced from public documents and/ or the company and is not the opinion of our web sites. This site is currently compensated by featured companies, news submissions and online advertising. www.InvestorIdeas.com/About/Disclaimer.asp
For Additional Information and or interest in becoming a content /revenue partner:
800-665-0411 - dawn@investorideas.com, cvanzant@investorideas.com
Source - Investorideas.com
View Comments and Join the Discussion!
Posted-In: investments social networking stocks techMarkets Trading Ideas