Jack Welch On Bloomberg TV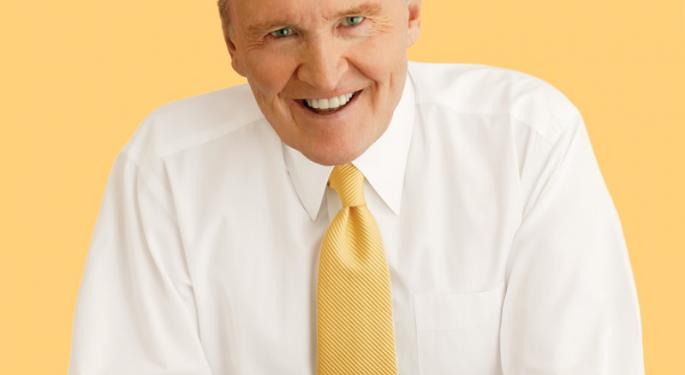 Former General Electric Co. Chief Executive Officer Jack Welch talked to Bloomberg about the Obama administration's relationship with U.S. businesses this morning. Welch, speaking with Betty Liu on Bloomberg Television's "In the Loop" at the World Business Forum in New York, also discusses Mark Hurd's resignation at Hewlett-Packard Co. and his new role at Oracle Corp. The video can be found here courtesy of Bloomberg Television. Highlights of the interview can be found below.
On HP's recent management moves:
"It is impossible to understand the back room dynamics here. It certainly wasn't performance. So there was another agenda with Mark Hurd that hasn't yet come out. Something Joe Nocera at the New York Times wrote a piece that he was disliked by the employees. I do not know that. I do not know enough of the inside baseball. But it is clear this was not a performance issue. This was a dynamic between the board, which appears to be somewhat dysfunctional, and Mark Hurd. Larry Ellison scooped him up. And I think the winner so far in this is Larry Ellison."
On HP's "dysfunctional" board:
"I mean there are boards that do not understand their role in companies. Their role is to pick a CEO, worked on the strategy with the CEO, and then get out of the way. If the CEO isn't delivering, tell him about it, give him a chance maybe and then get him out of there. But on the other hand don't get involved in all kinds of internal squabbles."
On HP choosing a CEO outside of the company:
"It tells you that they haven't done the management development job. Look they hired Carly before Mark Hurd, so this is the second time that they've had to do that. You know Todd Bradley is out there and Todd Bradley worked for us at GE and Todd Bradley is a very good guy. Somehow or other he wasn't picked. I don't know any of the dynamics. So they chose to change the game again. This is their third outside CEO in eight years or something like that. It is obviously a board that isn't thinking about management succession internally for a long time. [LIU: And it likely will not change with this appointment?] No, I would not think so."
On Obama's economic team:
"I think this White House, this administration, has not been friendly to business. People talk about all kinds of reasons why not, but, very specifically there are five reasons why they have not been good for business. Intimidation -- The first thing the President did was go after Vegas and travel. Then he went after the Supreme Court on a ruling publicly at the State of the Union. [LIU: You mean the political interest money?] Yes. It is ok for unions to do it, but not corporations. [LIU: But they are still doing it.] It is okay now. The trade issues, where they try to take the foreign tax credit away and make us less competitive. Has not signed the Korean trade deal. They are always talking about wanting to trade. [LIU: They haven't done anything on that front.] They talk about supporting small business with taxes. On the one hand, they passed a bill, $30 billion dollar bill for federal loans and then keep this provision where small business have to account for all these little tax credits, buying gas across the country, doing all these things, terribly dysfunctional."
"I don't think any administration comes in trying to kill business. It's a bad idea. They aren't going to last long with that. I think they either inadvertently or through a lack of understanding. The President has not been served very well by his economic advisors. The President has no economic history."
"I don't know whether he needs business leaders but he needs someone who understands business, real business, not these academics, etc."
View Comments and Join the Discussion!
Posted-In: Betty Liu Bloomberg TV Jack WelchNews Movers & Shakers Intraday Update Media General