Red Shirts, Yellow Shirts Could Leave Thailand ETF Shirtless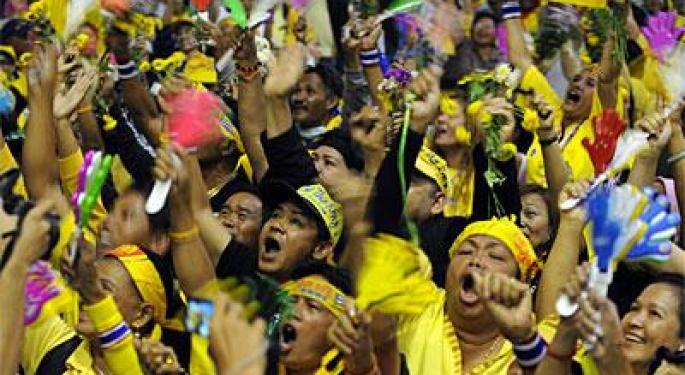 Thailand's political situation remains perilous as the pro-establishment Yellow Shirts called for martial law to be imposed after a grenade attack late Sunday on the house of a former premier injured 11 people, according to the Sydney Morning Herald.
The month-long protests between the Yellow Shirts and the anti-establishment Red Shirts have led to 1,000 injuries and 26 deaths. All of this might have you thinking the iShares MSCI Thailand Investable Market Index (NYSE: THD) would be down more than 1% in the past month, but that's all the ETF has shed.
Be careful here. THD was up 6% earlier this month, so in effect the ETF has lost 7%. THD has found support at $44 and a move above $48 would be bullish, but its hard to advocate anything more than a day or swing-trade in this ETF as long as political tensions remain high.
The Yellow Shirts have set a one-week deadline for the Red Shirts to cease protests, so if nothing else, THD will be worth watching again this week. Just don't get married to a position in this ETF if it goes against you.
Posted-In: Emerging Market ETFs Politics Global ETFs
View Comments and Join the Discussion!