Creating Ideas with Matt Rizai, CEO of WebFilings, Part 1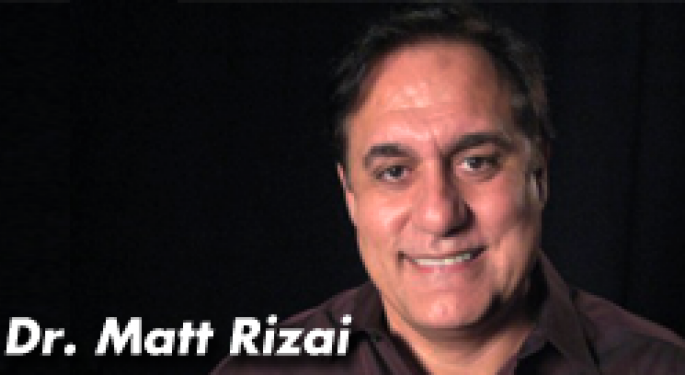 Hello and welcome to Zing Talk, where Benzinga brings you the biggest names and brightest minds from New York to Silicon Valley.
Today we're lucky to have Matt Rizai, the CEO of WebFilings, a company that has revolutionized the cumbersome process of filing SEC reports. How you doing today Matt?
Matt Rizai: I'm doing fine, thank you.
Great! Glad to hear it. To start things off, can you tell us how you got to be where you are today and what led to the creation of WebFilings?
Matt Rizai: WebFilings is kind of a creation [that spawned from us looking at] what we can do with new technology, and looking at the markets and knowing our strengths in terms of software development as well as the market positioning points. We thought that WebFilings would be a natural and specific market that we got really excited about. That market happens to be preparing SEC reports for public companies.
Can you tell us about your background?
Matt Rizai: [I was previously with] another startup called Engineering Animation in the '80s. We scaled that company to over 1,100 people with over $100 million in revenue. We took it public and then sold it to Electronic Data Systems. I've been involved in the startup and scale-up type of environment in terms of the technology world. So that's what my passion is and what I've been doing – not only starting and scaling companies but also continuing to scale companies to even higher levels and looking at different markets.
What is about the startup area in particular that you find so exciting?
Matt Rizai: I think it's more of being able to create something. I'm not sure that's something you learn or you have it naturally. From my point of view is it's exciting to be able to see certain ideas come to fruition, knowing that ideas are one thing because sometimes ideas are a dime a dozen.
But the whole concept, the success, and the execution of those ideas and being able to realize and understand the nature [and] progression of the startup to a larger organization, to me, is fascinating. You end up working in a very dynamic environment for various reasons – because of the high-risk element, because of the new discovery, and because of finding creative, fun people who really want to work in an environment, and because they want to work in that environment, not because they have to. That type of environment is very energizing, very exciting from my point of view.
And also see the different challenges companies go through from the beginning to seeing revenue, to gaining market share, to various, different issues. I'm always a student of that; I'm always curious to see how companies started, survived or failed, anywhere from General Electric (NYSE: GE) or General Motors (NYSE: GM) or Yahoo! (NASDAQ: YHOO) or WebFilings or any other company like that.
Before you helped start WebFiling, you helped bring about the fast growth of Engineering Animations. Can you give us some insight into the strategy of your successes?
Matt Rizai: I don't think there's one hard formula for it. It's pretty comprehensive – there are different approaches that work for different people. Some of the approaches that may work for different types of startups may not work for others. That's why there's a lot of very smart, hard-working people that get together to come up with an idea to start a company, even though they get financed and don't see the end result for various reasons.
When you do this the first time, you really go with the flow. You're excited. This is what you want to do. And I think there's a lot less analysis of how are we getting here and what are we doing and more of [a] let's get it going thought process.
And there are entrepreneurs who create ideas and then bring in other people to execute it and run it. And there are other entrepreneurs, and perhaps myself – I'm not only interested in the startup phase of the organization but I'm very much interested in the organization's development and scaling the organization and seeing the different stages.
You only get that appreciation after you do it once. Whether it was successful or not, it's a process you have to go through. When you start doing it again, and if you're really passionate about it, and if you wanna do it, and if you're that type of entrepreneur, then you start noticing the trends. It's very similar [what] organizations and groups go through at the beginning and the middle and later on.
I think for entrepreneurs who just want to be an entrepreneur because they want to start a business, specifically those types of people are [wanting] to work on their own, they really don't want to have a boss, so to speak, and they want to be more independent. Then, after that the key that a lot of us don't understand the first time, you really can't be any of those things and be a successful company and grow unless you have talented and smart people around you.
Some entrepreneurs don't understand that and they deal with control issues and that's why they can only take the company to a certain level. After that there's a management change – or failure.
The key, I think, if I had to tell anyone about starting a company is regardless of what company that you think is successful today, it's not one person. It's never been one person. That includes Microsoft. That includes Google. That includes any company I can think of all the way back to GE. It always takes several people working together, complementing each other, because we all have weaknesses and strengths, and work in a harmonious way through the very difficult challenging times we all go through.
So to me, to be able to get the right people, and talented people, and create a culture – even if you only have three people – and push that is the most important thing.
I don't think things like, "Well, do we have the right product for the next five years? Are we in the right market?" Those are not as relevant to the story.
What do you think about the future of cloud computing and its impact on business in the financial sector?
Matt Rizai: I think this is a very similar discussion that goes [on] in the market place. [It was a similar] discussion about a local or centralized way of providing electricity. If you go back 100 to 125 years ago and see some of the articles in the newspapers, you'd be amazed at some of the arguments people made.
I think cloud computing is centralizing the computing ability – [it's] very natural. I think it really opens up the future for people to be able to not think about computing anymore because it's there, just like you don't think about electricity today (unless you're in a different part of the world, of course). It's not about electricity; it's about the creation.
When you go into a room [and flip a switch], that's natural. What you do in that room is what's important. So I think cloud computing, in the same sense, is going to literally revolutionize. It's a huge paradigm shift. It will revolutionize the way we use technology in the next 10 years. And I think a lot of businesses are just realizing, and we're at the beginning of this. I feel like this is 1993 and the Internet [arrived], where Internet potential was not being [utilized]. We really didn't know.
If you remember, Netscape wasn't even around. And what it did for the following 15 years in the world in terms of communication and otherwise, and I think cloud computing is going to be doing the same in a lot of ways. It's going to definitely transform the IT world – in a good way, I think. It's a good way so that the IT world can be more productive and focus on the things that are more important to the business [world].
Obviously there's also a similar argument for [how it could create] new ideas. We were one of the earlier pioneers on cloud computing to come out with a business application, 'cause our business is B2B. That's why we were able to advance and see the benefits quite a bit.
If we had not done that, I would argue that it would have been a lot more expensive and maybe impossible for us to start WebFilings if we had to buy servers and have an IT department and special rooms to deal with those servers, we probably would not have done what we did. I think this also goes to many – hundreds and thousands of companies – that came up with an idea on a computer and a laptop and utilize cloud computing.
Of course, on the consumer side, cloud computing has had a huge advantage from every direction.
Part 2 is available here
Posted-In: Benzinga Podcast matt rizai webfilingsMovers & Shakers General
View Comments and Join the Discussion!