Billionaire Sam Wyly – A New Book & a SEC Fraud Suit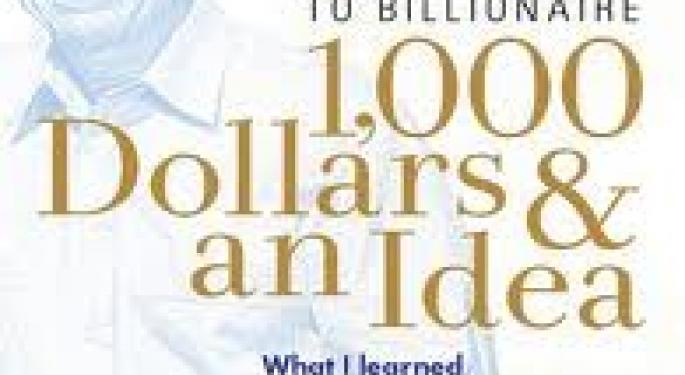 Billionaire Sam Wyly has a new book about his life. It's called 1,000 Dollars and an Idea: Entrepreneur to Billionaire. Coinciding with the book's expanded edition, which came out late last year, is an SEC fraud suit, announced in July, which accuses Sam Wyly and his brother Charles of using offshore accounts to evade U.S tax and security laws.
I'm often disappointed with best selling books about business. Most of them consist of flavor of the month and get rich quick prescriptions. I'm really not interested in the 10th edition of Rich Dad, Poor Dad. I think I got the jest of Rich Dad, awhile ago. Most of these guru authors aren't real businessmen; they make their living by selling advice.
The low keyed, Sam Wyly is the real deal: He's founded a half a dozen businesses, in wide ranging areas. He is one of the founders of Michael Stores - the arts and craft franchise, Bananza Steak House, a bunch of computer and software businesses including Sterling Software, Maverick Hedge Fund, and Green Mountain Energy. Like his friend Ross Perot, Wyly was a struggling middle class kid from the south, who started out as a salesman for IBM.
What was Sam Wyly's secret? In addition to a lot of smarts, tenacity, and hard work, was a strong dose of positive thinking and a belief in himself. The book could serve as a template for aspiring entrepreneurs. By an uncanny ability to understand business cycles often Wyly was able to buy businesses on the cheap.
Other than reading his book, and recommending it, I don't know much about Sam Wyly and his brother Charles. So I won't speculate on whether the pair are guilty of the SEC charges. Experts agree that it's a complicated case. . Apparently, the Wylys created an off shore trust with the purpose of shielding the assets from taxes. The Wylys have vowed to fight the charges after negotiations with the SEC, recently broke down.
Here's some info about the charges taken from an article in today's NY Times by Edward Wyatt: "How strong is the case? "Pretty strong," said Ronald J. Colombo, an associate professor of securities and corporate law at Hofstra University, "though not a no-brainer." Professor Colombo based his opinion on his reading of the complaint.
Sam and Charles Wyly both in their 70's have been partners in all of their businesses, starting in the 1960's. The political and ideological views of the Wyly brothers are as hard to pin down as their diverse business empire. They are dedicated environmentalists and founders of alternative energy supplier Green Mountain Energy. On the other hand they are part of the politically conservative Dallas Texas landscape, where they make their home. They bankrolled both the elder and younger George Bush and other conservative candidates. The Wyly's are also prolific philanthropists.
My guess is that the Wyly brothers will eventually settle with the SEC. No doubt this fraud suit is going to cost them plenty of bucks, and a stain on their previously unblemished reputations. Hopefully, Sam Wyly will soon go back full time to what he does best, creating wealth, and doing charitable work. In the meantime, check out his book.
Posted-In: Charles Wyly green mountain energy michael stores San WylyMovers & Shakers Media Trading Ideas
View Comments and Join the Discussion!