A Conversation With Wilfried Vancrean, CEO Of Materialise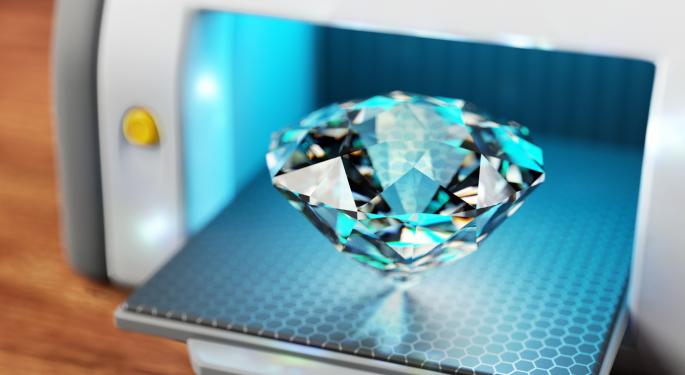 Belgian 3D printing software maker Materialise (NASDAQ: MTLS) is a lesser-known 3D printing stock.
Unlike other 3D printing stocks, which popped on debut, Materialise's debut on the Nasdaq was less than spectacular: The company's stock price declined marginally.
Since then, the stock has mostly held steady around its IPO price of $12.00.
Part of the reason for the stock's staid movement is the company's relatively unglamorous area of operation: 3D printing software.
The bulk of its customers use its software for industrial applications such as manufacturing medical devices to aerospace industries. The Leuven-based company also provides 3D printing services to such customers.
According to the website, the company's factories contain more than 80 printers, "including 12 of the world's largest stereolithography machines."
The following is a lightly edited transcript of an email interview with Wilfried Vancraen:
In an earlier conversation, you said that Materialise placed great emphasis on 3D printing software, stating that "3D printing becomes possible only because of (good) software." Can you expand on this statement? More specifically, why are you focused on software (a differentiated space with multiple providers) when other players are focused on hardware?
Vancrean: From the early days of Materialise, software development has been one of our core competencies -- whereas other companies have focused on hardware and still others have focused on material development. It is important to understand that 3D printing requires different data models and algorithms than traditional CAD and that the software challenge is one that runs both deep and wide.
The depth comes from the complexity involved in the creation of the algorithms required, and the width comes from the fact that there are so many possible applications of 3D printing.
For the latter to be successfully realized, it is necessary to enable the data involved with the application to interface with a wide range of systems. Therefore, to expand on the statement that 3D printing becomes possibly only because of (good) software, we believe that good software, such as the range of software solutions developed here at Materialise, furthers 3D printing by enabling a growing range of applications -– thereby benefiting the hardware developers as well.
You can say the same about the material developers as well. The press often focuses on advances in 3D Printing hardware, but should start looking at the role that software (and materials) will play in taking the technology even further in the future.
Related to the previous question, how would you compare margins on 3D printing software as compared to hardware? How do you see these margins evolving over time?
Vancrean: As we don't sell hardware, we cannot comment on the margins there. However, for software, in the first half of the year software was 40 percent of EBITDA. We expect to see a temporary decline in this number in the near future due to an increased investment in R&D.
You have a major focus on industrial applications for 3D printing. How do you foresee i.materialise evolving? Also, it would be great if you could provide some numbers around its growth.
Vancrean: Although we do have a focus on industrial and medical applications for 3D printing, we launched i.materiailse as we saw that there was also a need for high-quality 3D printing within the consumer space. Since its launch, i.materialise has been a service through which consumers and home professionals can access a growing range of 3D printing materials and finishes –- we like to think of it as a Factory 2.0 for designers. i.materialise has also evolved into a partner for small businesses who automate their operations by connecting to our 3D Printing API –- businesses like Twikit, Toyze and others.
What are Materialise's future plans? Specifically, what are your future growth areas in terms of business?
Vancrean: We discussed our future plans and future growth areas in our Q2 earnings call and as this information has not changed in the meantime, we hope that the information which is still available on our Investors website will suffice.
Posted-In: 3D Printing Wilfried VancraenInterview Best of Benzinga
View Comments and Join the Discussion!