Manufacturing Checkup: Fresh Data To Start Week As Market Deals With U.S. Unrest, China Concerns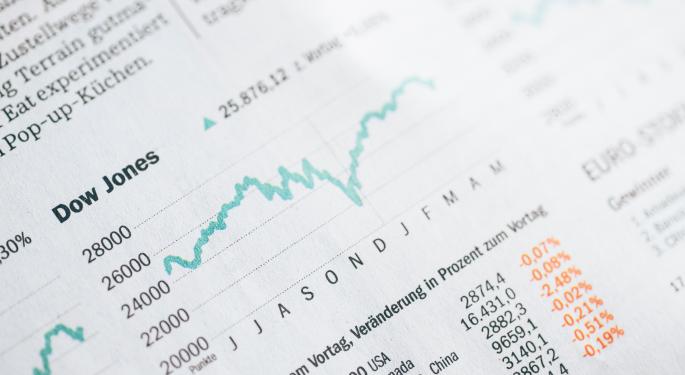 Add U.S. unrest to the wall of worry the market continues to climb in 2020. Between that, the pandemic, increased tension with China, and disastrous data, stocks have shown major resilience—though to be fair they've gotten a massive dose of assistance from the Fed.
There's a dichotomy between rioting in major U.S. cities, Hong Kong still having some issues, and stock market optimism as the U.S. continues to open up its economy.
Another negative item crossed the wires this morning as China ordered companies to temporarily halt U.S. imports of farm goods, including soybeans and pork. This means the war of words might be turning into a more serious skirmish, and the news put a little damper on trading in the pre-market hours just ahead of the opening bell.
Otherwise, things feel pretty flat to start the new week and month after stocks scrambled to 38% gains over April and May from the March bottom. There just don't seem to be too many catalysts out there today, other than the nice data from China and the fresh worries about U.S. exports to that country. Earnings and data schedule appear a bit thin, too.
Investors spend a lot of time searching for glimmers of hope in the global economy, and they got another one Monday—this time from China. In a surprising development, manufacturing perked up a bit in May, according to a private survey.
We're going to get a glance at May U.S. manufacturing activity this morning, too, and it's expected to still be in contraction but a bit better than a month earlier, judging from Wall Street's consensus estimates (see more below).
Trade Jitters Haven't Gone Away
The concern late last week had been that maybe President Trump would remove the U.S. from the trade deal signed with China nearly six months ago. That agreement had brought a brief period of calm to the relationship. When Trump didn't announce any major initiatives Friday, a few buyers showed up.
However, we're not out of the woods yet on the China trade front, as today's news showed. Remember, neither country's economy is necessarily in good shape to weather any trade hiccup (see more below).
Also, data remain a headwind. Chicago PMI and Michigan sentiment last Friday both disappointed and suggested the economy didn't gain much traction the last few weeks. When sentiment is negative, it often points toward consumers getting tighter with their pocketbooks. That's probably something to expect, anyway, given the high levels of unemployment. For retail companies, it's the current quarter when struggles might really intensify, with most of the early-crisis stockpiling over.
Obviously, the pace of reopenings and any potential hiccups as the country continues the long road back to normalcy remain front and center here in the new month. We're in an incredibly fragile economy right now, and things are just getting back. We need as much momentum as possible that encourages people to go out and spend money. Anything that upsets that fragile sort of enterprise has the opportunity to really set the stock market and the total economy off course.
"Stay at Home" Earnings on this Week's Agenda
Checking Friday's sector performance, it wasn't easy to find a lot of rhyme or reason. Some of the so-called "cyclical" sectors like Information Technology and Consumer Discretionary did well even as others like Financials slumped. Defensive sectors like Real Estate and Utilities experienced the same lack of any obvious pattern.
However, "stay at home stocks" like Zoom Video Communications Inc (NASDAQ: ZM), Clorox Co (NYSE: CLX), and Microsoft Corporation (NASDAQ: MSFT), among others, had a strong finish to the week. They'd stepped back a bit in the days before that after powering the market most of April and May. Now it's June and two of the best-known examples of the new economy are scheduled to report over the next few days.
ZM and Slack Technologies Inc (NYSE: WORK) open their books this week, and both may have benefited immensely from the lockdown as people, businesses, and schools relied on their platforms to go about their day-to-day operations.
Something to consider asking as the world gradually reopens is whether the heightened demand for virtualization will last. These companies' platforms might end up as supplements to office-bound work, or they may actually redefine the future of the workspace. Both have been important for people communicating from home with their friends and relatives, but some of that business might go away if people can visit each other in person again.
It might be interesting to hear what each has to say on their earnings calls about how they plan to keep the home fires burning as people get back to working at the office instead of from their dens or dining rooms.
Broadcom Inc (NASDAQ: AVGO) and Gap Inc (NYSE: GPS) are among the other key companies sharing quarterly results this week.
Get Ready for Manufacturing Print
Besides earnings, the week ahead is loaded with data. This includes today's ISM manufacturing index and Friday's monthly payrolls (see more below on ISM). We'll preview payrolls later this week, though it seems pretty likely they could be ugly once again, judging from weekly initial jobless claims staying at two million or higher all through May.
What's good to see is a bit of a revival over the last week in some of the sectors hit hardest by the pandemic. These include Financials and Industrials. The Russell 2000 Index (RUT) of small-caps had a rough time Friday, but has generally been moving higher in what could be a positive sign for the economy. Transports also seemed to gain some power in late May.
The other thing to keep an eye on this week is the pace and progress of reopenings. One of the developments that might have helped stocks out late Friday was news that caseloads haven't ticked significantly higher in early-opening states like Georgia and Florida. That said, the data are pretty early, so there's still plenty of time for them to potentially go south. As we noted in our June outlook posted last week, the progress on reopenings might outweigh most other data this month in terms of helping determine market direction.
With that maybe in mind, there's still evidence of caution hanging around Wall Street as the new week starts. Bonds and gold both finished Friday with a lot of strength, and the dollar didn't step back too far. On the positive side, the Cboe Volatility Index (VIX) did turn lower by the end of last week to finish below 28 before ticking higher in futures trading early today.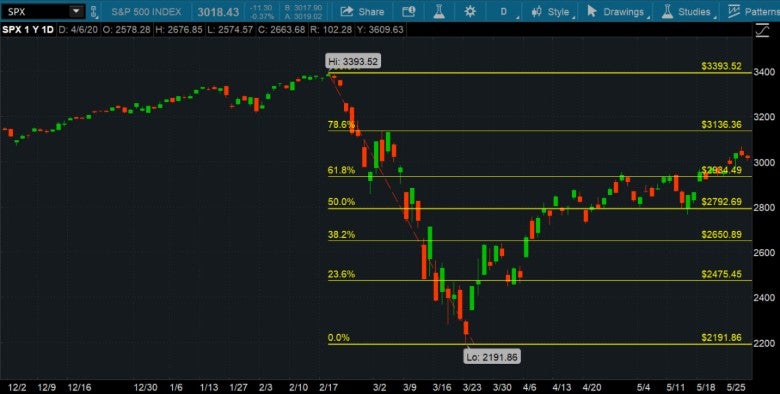 CHART OF THE DAY: LEVELING THE FIELD: The Fibonacci retracement for the S&P 500 Index (SPX—candlestick) from its all-time high in February to the March 23 low shows the SPX is trading above its 61.8% retracement level that sits at 2934. It was bouncing between the 50% and 61.7% level for a few weeks before it finally broke above the 61.8% level. The next resistance level, 78.6%, is at 3136. These levels aren't written in stone, but when the SPX approaches any of these levels, investors and traders should think of them as possible alert points. Data Source: S&P Dow Jones Indices. Chart source: The thinkorswim® platform from TD Ameritrade. For illustrative purposes only. Past performance does not guarantee future results.
Paradigm Shift: Not too long ago, it seemed like Fridays were always freaky for stocks. We had a stretch earlier this year when almost every Friday saw losses—sometimes steep ones—as investors tried to clear the decks ahead of possible bad news over the weekend. That paradigm has definitely shifted, and last Friday was a good example. After being down early in the day on worries pertaining to what President Trump might say about China, the S&P 5000 Index (SPX) and Nasdaq (COMP) both posted relief rallies to finish on a positive note. This Friday brings May payrolls, which means another challenge for the market on the final day of the week.
Not Last Year's Trade War: Investors might feel a bit optimistic about reopening economies, though at the same time they're probably a bit spooked about the chance of last year's trade spat going on repeat. The worrisome thing is that neither country's economy is in great shape or necessarily able to handle a trade war alongside fighting the pandemic. It's tempting to write off the impact of last year's trade war on stocks when you look at the 20% and better gains for most U.S. stock sectors in 2019. However, China's economy was growing 6% then and now it's falling at least that much. U.S. unemployment was under 4% then and now it's in the mid-teens. It's possible this tension could intensify in coming weeks and months as the U.S. election looms, so trade concerns could be a negative overhang for a while.
Manufacturing Check: By the time you read this, May's ISM manufacturing data may already be out. Last month saw the headline figure slide to 41.5%, the worst reading since April 2009. The headline for May is also important, though other categories deeper in the report like new orders and production might provide more insight into various aspects of the manufacturing economy and how they're doing compared with a month earlier. Remember to read beyond the headlines. The consensus on Wall Street is for a reading of 44% in May, according to research firm Briefing.com.
Also, keep in mind that while this report gets a lot of ink, it only reflects a small portion of the U.S. economy. Manufacturing's importance is still there, just not as much as it was, say, 40 years ago. We'll see if that starts to change with politicians on both sides of the aisle talking about the importance of bringing manufacturing jobs back here in the wake of the pandemic and its chaotic impact on supply chains.
TD Ameritrade® commentary for educational purposes only. Member SIPC.
Photo by Markus Spiske on Unsplash
View Comments and Join the Discussion!
Posted-In: Government News Technicals Global Econ #s Economics Markets Trading Ideas