4 Key Takeaways From Senate's Online Hearing On US Coronavirus Strategy, Reopening Economy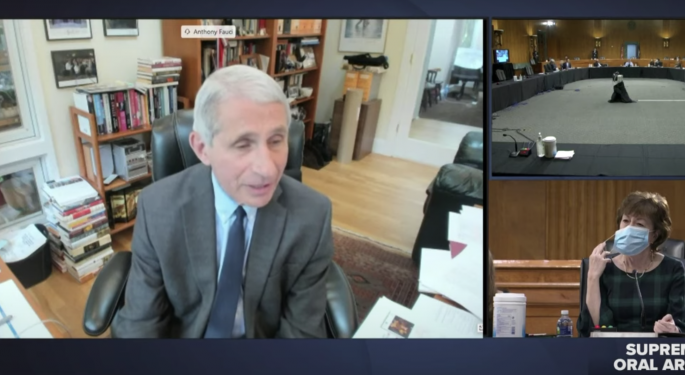 Senate representative and government's top health officials on Tuesday held an online hearing on the country's future strategy in fighting the ongoing pandemic.
1. Consequences of Reopening Are Serious
As states begin to reopen their economies after weeks of closures, Dr. Anthony Fauci, the director of the National Institute of Allergy and Infectious Diseases, cautioned, "If certain areas prematurely open up, my concern is we might see spikes that turn into outbreaks." He warned, "The consequences could be serious. Even in states that reopen with a deliberate pace…there is no doubt that when you pull back on mitigation, you will see some cases reappear."
2. Fraudulent Tests Are A Concern
Dr. Stephen Hanh, Commissioner of the Food and Drug Administration, said that the focus of the agency was on speeding the development of and conducting the review of both antiviral and antibody drugs. The FDA has been in the spotlight after it approved at-home testing kits, some of which may not have been accurate.
Democratic Senator Chuck Schumer, in a letter written Sunday to Hanh, asked the agency to ramp up oversight of the tests being sold online. Hanh said that the FDA is "monitoring the marketplace for fraudulent tests, and are taking appropriate action to protect the public health." The commissioner revealed that officials are on course to provide "more clarity" on which tests have been FDA reviewed.
Hanh said the focus of the agency was on speeding the development and conducting the review of both antiviral and antibody drugs. He added that the FDA was on the lookout for evolving symptoms.
The commissioner explained the agency is now working with others to make sure there will be enough medical equipment and supplies available, including syringes and needles to administer vaccines, once they are ready. On the subject of testing, Hanh said that the agency had worked with more than 500 developers, who have either submitted or are in the process of submitting applications for FDA authorization of COVID-19 tests.
3. Reopening America Requires Wide and Rapid Testing
Health officials concurred that rapid and widely administered testing was vital to reopening America. Dr. Robert Redfield, the director of the Centers for Disease Control and Prevention, revealed that the CDC had created a state-by-state assessment of contract tracing, and was working with the states on their efforts to monitor the spread of the pandemic.
"We need to rebuild our nation's public health infrastructure," he said further warning, "it's important to remember we're not out of the woods yet."
4. Rushing Vaccinations May Have Negative Outcomes
Fauci said a vaccine development is likely, but not before school restarts in the fall. Expressing confidence in its eventual success, he said, "It is much more likely than not that we will get a vaccine."
He also warned against rushing the process, saying, "I must warn that there's also the possibility of negative consequences where certain vaccines can actually enhance the negative effect of the infection." Fauci added, citing efficacy as "the big unknown."
He pointed out that in just 62 days after scientists started working on the vaccine candidate, one has already entered a phase one trial, and two doses have already been given to human volunteers.
Moderna Inc. (NASDAQ: MRNA) has received fast track status for its vaccine candidate, as well as an approval from the FDA to begin a Phase two study.
Fauci also highlighted the danger of a vaccine producing a "suboptimal response" by exemplifying two previous failures. He said, "When the person gets exposed, they actually have an enhanced pathogenesis of the disease, which is always worrisome. So we want to make sure that that doesn't happen. Those are the two major unknowns."
He revealed that there are eight candidates for COVID-19 vaccines in clinical development, and their efficacy will be known by officials by "late fall and early winter."
Image Credit: Online Stream Screenshot.
View Comments and Join the Discussion!
Posted-In: Anthony Fauci Covid-19Government News Health Care FDA Top Stories General Best of Benzinga