What Kavanaugh's Supreme Court Confirmation Means For The Stock Market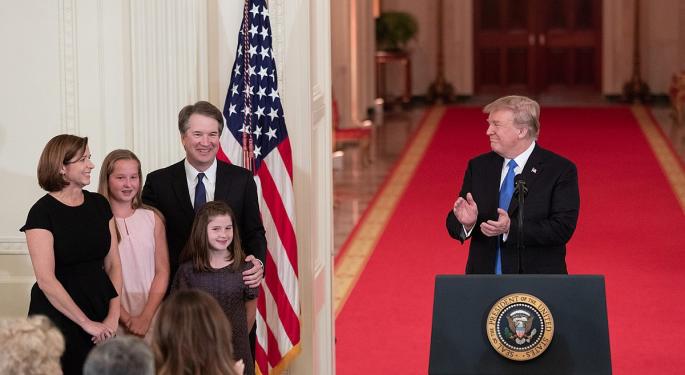 The confirmation hearings on Supreme Court nominee Brett Kavanaugh became highly politicized after allegations of sexual assault became public and one of his accusers, psychology professor Dr. Christine Blasey Ford, testified before the Senate Judiciary Committee.
Kavanaugh on Saturday afternoon was confirmed with a 50-48 vote.
Regardless of their opinion of Kavanaugh, investors are likely concerned about the type of impact he could have on markets, the U.S. economy and the legal landscape in the U.S.
Political Issues
One of the major concerns liberal Americans have with Kavanaugh is that he would vote to overturn Roe v. Wade, the landmark case that legalized abortion in the U.S.
These concerns are mostly based on a 2003 memo written by Kavanaugh in which he said the Supreme Court "can always overrule" the Roe v. Wade decision.
Another major issue that Kavanaugh could play a role in: deciding whether President Donald Trump is subject to criminal prosecution while in office.
In addition to any potential feelings of loyalty that could exist toward Trump for nominating him, Kavanaugh wrote in 2009 that a sitting president should be exempt from prosecution, indictment and civil lawsuits while in office.
Market Implications
While Trump's criminal fate and a woman's right to choose are certainly hot-button political topics, other legal issues could have a more easily deciphered impact on the stock market.
CNBC's Jim Cramer recently discussed how Kavanaugh's conservative mindset could be good for investors.
Kavanaugh's history of being anti-regulation, anti-agency and anti-government could help remove some regulatory uncertainty from the market, Cramer said.
"I know that it's hard to relate the Supreme Court to stocks, but I would say this choice is a P/E-multiple-expanding moment, given that there are now five members of the court who are relatively like-minded about the role of government in business," Cramer wrote in a Real Money column. "That gives executives that predictability that they crave."
Not only does predictability and consistency embolden investors to buy stocks, it also emboldens companies to spend and invest their own money. While Kavanaugh isn't necessarily pro-business, Cramer said his anti-government leanings make him a "subtle win" for the stock market.
Limited Impact
Whether you support Kavanaugh's confirmation or not, his potential impact on the legal landscape in the U.S. may not be as large as some people think.
"It's relatively safe to assume that you would see some incremental movement to the right, simply because he will be more conservative, in some ways, that Justice [Anthony]Kennedy was," Bloom Parham attorney Troy Covington recently told Business Insider.
Covington said he doesn't think a Kavanaugh conformation would dramatically change the Supreme Court's decisions on subjects such as health care and women's rights.
"I don't think that if he were to be confirmed, we would see large and sudden shifts in the way the court goes about its business," he said.
Investors certainly don't seem concerned about Kavanaugh up to this point.
The SPDR S&P 500 ETF Trust (NYSE: SPY) is up 5.3 percent since Kavanaugh was nominated back on July 9.
Related Links:
Fannie And Freddie Investors Find A Silver Lining Amid Claim Dismissals
NAFTA No More: The New North American Trade Deal, Explained
White House photo.
Posted-In: Government News Futures Politics Legal Top Stories Markets General Best of Benzinga
View Comments and Join the Discussion!