Pompeo Announces Billions In Indo-Pacific Investment, Mirroring China's Belt And Road Initiative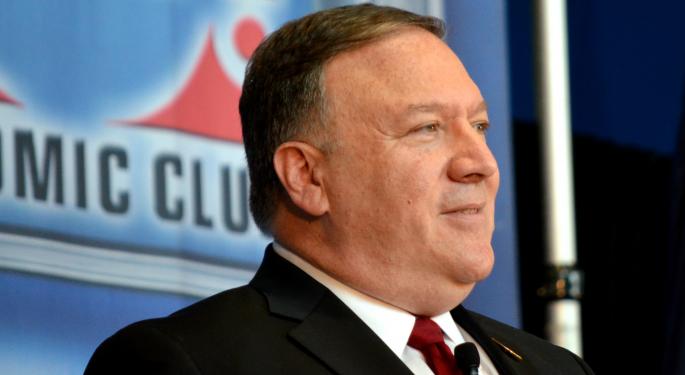 Secretary of State Mike Pompeo announced new plans Monday to provide $113 billion in direct government investment for Indo-Pacific countries administered through a new agency, the U.S. International Development Finance Corporation.
Japan, Australia and a handful of other Asian countries have joined the U.S. on the project.
Why It's Important
In addition to the $113-billion investment, the plan would double the global spending cap for U.S. loans to private companies for overseas projects.
Although not stated by the administration, the move is a direct challenge to China's Belt and Road Initiative.
China's position is that the initiative, which provides hundreds of billions of dollars — possibly moving into the trillions — in loans to Asian, African and eastern European countries for infrastructure development, is a means of enhancing regional connectivity and embracing a brighter future.
The U.S. and its allies see it as China's bid to expand its sphere of influence through trade — a form of economic imperialism. Last year, Sri Lanka, unable to meet its debt obligations to China, signed over a newly built seaport to China in a 99-year lease.
"We all want all nations, every nation, to be able to protect their sovereignty from coercion by other countries. We want the peaceful resolution of territorial and maritime disputes," said Pompeo, speaking on the USIDFC to the U.S. Chamber of Commerce. The program will likely draw suspicion from China's leaders, ratcheting up tensions.
"Where America goes, we seek partnership, not domination. We believe in strategic partnerships, not strategic dependency. The American people and the whole world have a stake in the Indo-Pacific's peace and prosperity, and that's why it must be free and open," Pompeo said. His words echoed the language used by Chinese officials speaking on Belt and Road.
Speaking on the trade war, Brett McGonegal, chairman and chief executive officer at Capital Link International, said he believes infrastructure development in Asia could create a space for negotiation between the U.S. and China.
"My thought is that, if neither one want to say that they lost the trade war, maybe they find compromise by doing something together on infrastructure," McGonegal said.
The U.S. threatened to increase proposed tariffs on Chinese imports by more than half Wednesday.
What's Next
Even the U.S.' allies in the region have been skeptical about its plans for future engagement, making it difficult to guess how events will play out or what kind of effects the investment program will have. Dozens of countries have signed up for infrastructure partnerships with China, and the money proposed by the U.S. pales in comparison to the Belt and Road Initiative.
Beginning Thursday, Pompeo will visit Indonesia, Malaysia, and Singapore — three important U.S. partners in southeast Asia — for bilateral talks, as well as to meet with other foreign ministers at a meeting of the Association of Southeast Asian Nations this weekend.
Related Links:
The Multibillion-Dollar Chinese Unicorns You've Never Heard Of
Trump Softens Stance On China Technology Crackdown
Secretary of State Mike Pompeo. Photo by Dustin Blitchok.
Posted-In: Belt and RoadGovernment News Emerging Markets Politics Global Markets General Best of Benzinga
View Comments and Join the Discussion!