Comey's Actions Broke From FBI Procedure, But No Political Bias, Inspector General Says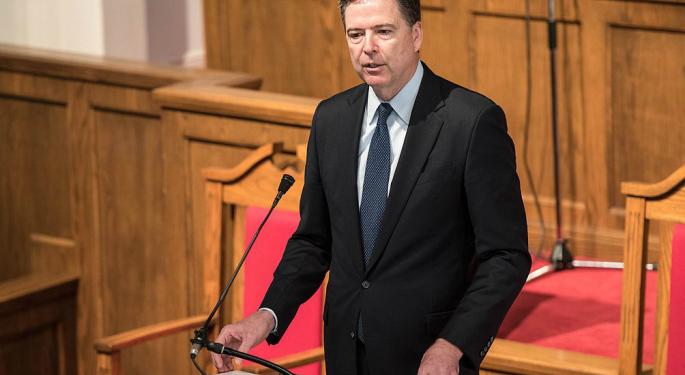 Inspector General Michael Horowitz's investigation into the FBI probe of Hillary Clinton found that former FBI Director James Comey "deviated" from FBI and Justice Department procedures, according to Bloomberg, which obtained the report.
What Happened
Comey's actions damaged the FBI's image of impartiality, Horowitz's report said, although it concluded that Comey was not motivated by political bias.
A portion of the report has already been made public, such as texts exchanged by two agents working on Special Counsel Robert Mueller's Russia investigation that were highly critical of President Donald Trump.
The agents, Lisa Page and Peter Strzok, were immediately removed from the case by Mueller and ultimately were not found to be acting improperly, although their actions also "cast a cloud" over the agency's reputation.
The report largely confirms Comey's own statements in his recently published book and testimony before Congress.
Get our full political coverage and market reactions in real-time by subscribing to Benzinga Pro.
Why It Matters
Comey's June 2016 announcement that he would not recommend charges be brought against Clinton for the handling of her private email server enraged Republicans, while Democrats blamed Clinton's loss on his announcement that the investigation would be reopened just days before the election.
"While we did not find that these decisions were the result of political bias on Comey's part, we nevertheless concluded that by departing so clearly and dramatically from FBI and department norms, the decisions negatively impacted the perception of the FBI and the department as fair administrators of justice," Horowitz said in the report.
The report, which will be sent to Congress on Thursday, does not concern the origins of Mueller's Russia investigation or possible collusion by the Trump campaign. Nevertheless, Democrats and Republicans are certain to use Horowitz' findings in their next salvo of accusations.
What's Next
Trump and his allies have a long history of using unrelated news events to push their message, and will likely cite the report as evidence of anti-Trump bias within the FBI and government as a whole.
On June 5, Trump tweeted his frustration with the amount of time it was taking for the report to conclude, speculating that it was being "made weaker" to Comey's benefit.
Democrats, meanwhile, can be expected to respond by reiterating claims that Republicans are desperate to find any misdirection from the facts that they can.
Horowitz its expected to testify before Congress about the report on Monday.
Related Links:
British PM May Reiterates 'Special Relationship' With US
Trump, Kim Lay Out Goals For Denuclearization, Security
Photo from the FBI.
Posted-In: Bloomberg FBI inspector generalGovernment News Politics General Best of Benzinga
View Comments and Join the Discussion!