Report: Trump Administration Notifies Congress Of ZTE Deal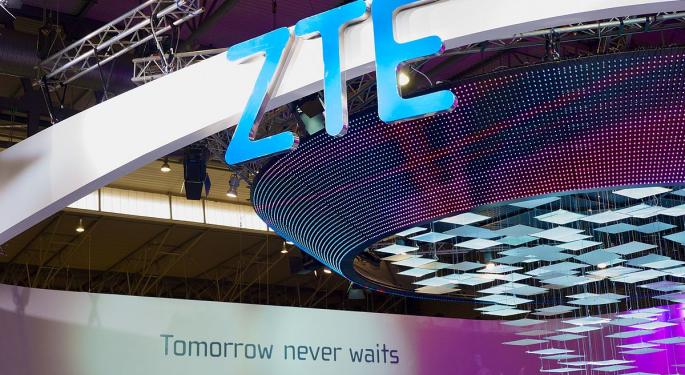 The White House informed lawmakers Friday it has reached a deal to put the Chinese telecom company ZTE back in business, according to a New York Times report.
Since April 16, ZTE has been banned from purchasing components from American firms for seven years. The denial order — issued as punishment for violating U.S. sanctions against Iran and North Korea — has crippled the company and threatened the jobs of thousands of Chinese workers.
In exchange for lifting the ban, ZTE would pay a heavy fine, make changes to its management team and hire American compliance officers.
Challenges From All Sides
President Donald Trump has been working on a deal to save ZTE since at least May 13, when he tweeted he was working with Chinese President Xi Jinping to save the lost jobs.
President Xi of China, and I, are working together to give massive Chinese phone company, ZTE, a way to get back into business, fast. Too many jobs in China lost. Commerce Department has been instructed to get it done!

— Donald J. Trump (@realDonaldTrump) May 13, 2018
The fate of ZTE has been perceived as a major stumbling block in trade negotiations with China. ZTE's death would be a major embarrassment to the country, which has been pushing to become a global leader in technology. Should the White House succeed, this act of good faith could go a long way toward easing trade tensions.
That success will likely be hard-fought. Members of Congress from both parties have stated their firm opposition to a deal that saves ZTE on the grounds that its products present a national security threat.
On Thursday, the House passed a bill that would prevent the administration from easing up on the company, and the Senate has been working on its own measures to keep the pressure on.
US Stocks React
Shares of several American companies with exposure to ZTE rallied on the news.
Acacia Communications, Inc. (NASDAQ: ACIA) shares — which had previously led stocks higher on the initial Trump-ZTE tweet — were trading up 5.4 percent at $33.92 at time of publication.
Others included Qualcomm, Inc. (NASDAQ: QCOM), Oclaro Inc (NASDAQ: OCLR) and Xilinx, Inc. (NASDAQ: XLNX).
Related Links:
Trump Reverses Course On ZTE And Optical Stocks Follow
Trump Tweets 'Nothing Has Happened With ZTE Except As It Pertains To The Larger Trade Deal'
Photo by Karlis Dambrans/Wikimedia.
Posted-In: President Donald TrumpGovernment News Regulations Politics Global Media General Best of Benzinga
View Comments and Join the Discussion!