Corporate Incubators and New Business Creation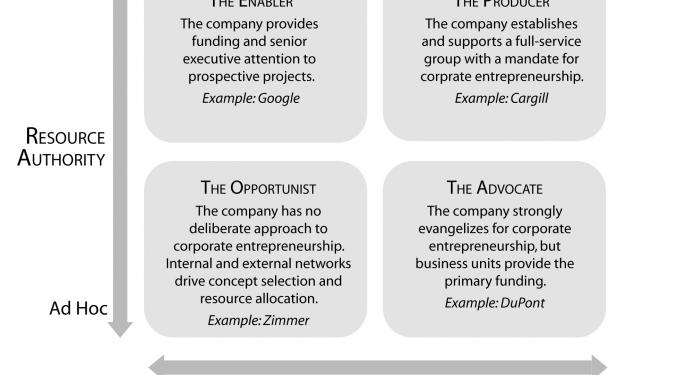 Many companies have wasted resources on new business and technology incubators and in the process bred a cynical view of innovation initiatives. Other companies have applied incubators and other emerging forms of innovation teams to creating significant business value. Taking innovation to market is a process full of challenge, but offering extraordinary competitive rewards to the adroit. Over the course of the next several weeks, we'll explain how several large, established companies are succeeding in turning proven concepts into ongoing new business creation; that is, Corporate Entrepreneurship.
The right model for transitioning and scaling the output of incubators depends on a company's strategic objectives. It also depends on contextual factors such as internal structure and culture (including business unit autonomy and diversity) and external business environment (including market turbulence, capital requirements for commercialization, and regulatory restrictions). Over the past seven years, with members of the Kellogg Innovation Network (KIN) at the Kellogg School of Management at Northwestern University, we've studied corporate entrepreneurship at more than 30 companies across various industry sectors. The good news is that successful new business creation by large established firms exists not only where you would expect it—at technology companies such as Google (NASDAQ: GOOG) and Cisco (NASDAQ: CSCO)—but also at consumer packaged goods and retail companies like Kraft (NYSE: KFT), Wawa (privately held) and Procter & Gamble (NYSE: PG) , medical industry players like Zimmer (NYSE: ZMH) and Baxter (NYSE: BAX), and industrial companies such as DuPont (NYSE: DD) and Cemex (NYSE: CX)
We have identified four basic models to structure and organize innovation and around which companies can design new businesses successfully, based on two key dimensions under the control of management: (1) organizational ownership: Is responsibility and accountability for new business creation focused in a designated group or groups, or is it diffused across the organization? (2) Resource authority: Is there money dedicated in advance to corporate innovation and entrepreneurship, or are new business concepts funded in an ad hoc manner through divisional or corporate budgets or "slush funds"? Together, the two dimensions generate a matrix with four dominant models, as depicted in the figure above.
The Opportunist–diffused ownership and ad hoc resource allocation
All companies begin as opportunists. Without any designated organizational ownership or resources, concepts developed in incubators proceed (if they do) based on the efforts and serendipity of intrepid "project champions" – people who toil against the odds, creating new businesses often in spite of the corporation. In large, established companies, encouraging visionaries and allocating sufficient management attention to these individuals is rare. But it can work for companies that operate in diverse markets and can profit from numerous smaller-scale innovations, if internal networks and culture support continued development. In a future posting, we'll describe how the Opportunist model works at medical device maker Zimmer (NYSE: ZMH).
The Enabler—diffused ownership and dedicated resources
Dedicating resources enables teams in incubators to pursue opportunities, but without formal organizational ownership for such efforts, implementation success depends on close top management support and attention. Google (NASDAQ: GOOG) does this particularly well, as we will highlight in a future posting. In some cases, enabler processes are employed as part of a broader, long-term plan to change the innovation culture of an organization. We'll profile how Whirlpool did this (NYSE: WHR).
The Advocate—focused ownership and ad hoc resource allocation
When business units enjoy significant autonomy from the corporate core, a new opportunity must be adopted by a business unit in order to come to fruition. In the Advocate Model, a company assigns organizational ownership for driving the creation of new businesses to a designated corporate-level group, but it intentionally provides the group only a modest budget, so that they develop compelling value propositions for business units. The Advocate Model is a relatively new and in some ways counterintuitive form of corporate entrepreneurship. In future postings, we'll describe how the Advocate Model works at DuPont (NYSE: DD) and at BP's Office of the Chief Technology Officer (NYSE: BP).
The Producer—focused ownership and dedicated resources
Unlike the skunkworks of the 1970s and 1980s, modern Producer organizations are more closely tied to corporate leadership and strategy, and they provide much greater support for the commercialization, transition and scaling of new businesses. Cisco (NYSE: CSCO) and Cargill (privately held) are good examples of skunkworks that work.
Robert C. Wolcott and Michael J. Lippitz are leading authorities on innovation and corporate entrepreneurship at the Kellogg School of Management at Northwestern University, and co-authors of Grow From Within: Mastering Corporate Entrepreneurship and Innovation (McGraw Hill, 2009). In the past seven years, they have studied more than 30 companies across industry sectors and developed an ongoing dialogue with them about corporate entrepreneurship through the Kellogg Innovation Network (KIN)
View Comments and Join the Discussion!
Posted-In: News Movers & Shakers Offerings Management Global Tech General