Resurgent Detroit: 5 Awesome End-of-Summer Festivals To Attend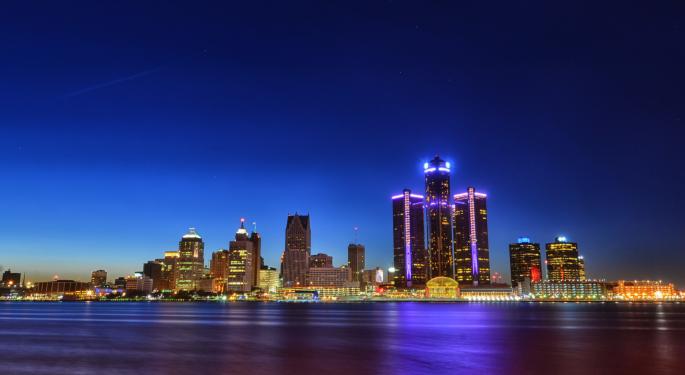 In anticipation of Benzinga's headquarters moving to the heart of Detroit, we'll be putting out a monthly series highlighting new establishments and exciting things going on in what will be our new home. Check out a previous piece about ways Detroit is being green, click here.
While the summer seasons is starting to wind down, Detroit is more active than ever.
Make sure to go out with a bang at the end of summer with these festivals celebrating independent business, music, community, history and design:
The Hatch Off: August 28
Hatch Detroit is a program that supports independent retailers and businesses in the Detroit community. Every year, the organization holds a crowdsourced contest with small, local businesses that allows Detroit residents to vote on which ones they'd like to have in their community. Previous winners include La Feria and Batch Brewing.
This Friday evening, Detroiters can snag a spot at the annual Hatch Off event, where the finalists pitch their concept to a panel of judges. The winner will be announced on top of the M@dison building, and the night will include a DJ, strolling dinner, drinks and a Detroit-centric silent auction.
Hatch Detroit Executive Director Vittoria Katanski told Benzinga that neighborhood development is a catalyst for improving quality of life of all those who live in Detroit communities.
"Hatch Detroit finds it important to help launch businesses in these communities because it keeps dollars local, creates jobs for the community members and improves the overall economic landscape of the neighborhood," she said.
Opportunity Detroit is sponsoring this year's Hatch Off event.
"The missions of Hatch Detroit and Opportunity Detroit are aligned -- we are both working to foster an innovative and collaborative environment to retain and attract entrepreneurs to Detroit," said Rock Ventures Director of Business Development RJ Wolney. "The power and success of the Hatch Detroit contest is exhibited not only in the four past winning businesses but the growing Hatch alumni network which now boasts more than 12 thriving retail businesses in Detroit."
Our mission is to support independent #smallbiz in #Detroit. Support Hatch at our annual #HatchOff fundraiser: http://t.co/Yz0DgYE0E2

— Hatch Detroit (@HatchDetroit) August 23, 2015
Detroit Jazz Festival: September 4-7
For more than 30 years, the Detroit Jazz Festival has put on a world-class music event every year in the city of Detroit. It's also known as the the largest free jazz festival in the world.
This year's line-up includes four performances by this year's artist-in-residence by Pat Metheny, as well as the Will Calhoun Quartet, Monty Alexander: Harlem-Kingston Express, and many more. Check out the full schedule here.
The festival starts on Friday, September 4 with some select evening performances and then runs 11:30 a.m. to 11 p.m. on Saturday, 11:30 a.m. to 10 p.m. on Sunday and noon to 8 p.m. on Monday. There will be plenty of food and beverage options available for purchase, but attendees may also bring their own.
Chris Collins, artistic director of the Detroit Jazz Festival, said in a statement that the goal is to create custom programming representative of the genre that brings fans from around the world to the heart of Detroit.
"Jazz is a genre that evokes such powerful and varied emotion, and it strongly emphasizes the experimentation of sound and musicianship. When putting together artists such as this, our job is to capture all that diversity, all that makes this art form so beautiful, in one weekend of performances. I think we accomplished that with this lineup," he said.
Check out the 2015 Detroit Jazz Festival schedule at http://t.co/NL1yadwnEK! pic.twitter.com/HHjEJ7BksY

— DetroitJazzFestival (@detroitjazzfest) August 3, 2015
Dally in the Ally: September 12
Perhaps one of the longest-running festivals in the city, Dally In The Alley has existed in some form or another as a north Cass street art fair for almost 40 years. The event is put on by the North Cass Community Union, and all proceeds go toward projects that help improve the quality of life for the neighborhood residents.
Check out Dally in the Alley the weekend after Labor Day. General access is free, but you might want to bring your wallet because the festival is overflowing with local art, merchandise, food and drink, in addition to live music.
Related Link: 5 Uniquely Detroit Things You Still Have Time To Do This Summer
Having events in the Cass Corridor neighborhood is incredibly important for the community, Dally in the Alley Spokesperson Steve St. Germain told Benzinga, adding that the organization is proud to be associated with any resurgence story of the city.
"Dally is put on by 100% volunteers, those who live in the city, want to see it grow and who participate in its creative community," he said. "As a group we have a dedication to this city, to support local businesses and highlight Detroit based artists and musicians. We are proudly sponsorship free and our event supported only by the people who feel the same way who come back year after year.
We're very excited to announce the Dally 2015 food vendor list! Come partake in the party September 12th! http://t.co/sMQyEEThZ8

— dallyinthealley (@dallyinthealley) August 11, 2015
Detroit Gatsby Lawn Party: September 13
Travel back in time with this 1920s and '30s-themed event at Palmer Park. It's the inaugural year for the Detroit Gatsby Lawn Party, and attendees will get to enjoy Jazz Age music, dancing, time period entertainments, food, drinks, an outdoor market and even a special corner for kids. You'll also find vintage motorcars and a chalk art exhibition.
Ticket prices are tiered, and go from $35 for a single ticket to $1,000 (admits 10). The event will run 11 a.m. - 5 p.m.
Detroit Gatsby Lawn Party Organizer Alison Chevalier told Benzinga that she wanted to bring an event to Detroit that would be appealing to both people from the city of Detroit, itself, and those from the surrounding metro area. Palmer Park, where the event will take place, sits on the dividing line between east and west Detroit, as well as centrally between downtown Detroit and northern suburbs.
"There is so much opportunity here, and it's within reach of everyone … By organizing this event, I hope to demonstrate that all it takes to create change and build something positive and beneficial to the community is a strong vision coupled with execution," Chevalier said.
Wow! Looks like all of our earlybird tickets have sold out. Thank you to you folks who purchased early - your... http://t.co/fi2X26L4CM

— DetGatsbyLawnParty (@GatsbyPartyDet) August 21, 2015
Detroit Design Festival: September 22-26
For five days in late September, Detroit will be all about Design. Mainly focused in Detroit's Creative Corridor, the festival will host everything from design lectures and gallery openings to public installations and pop-up marketplaces. The event is North America's festival celebrating independent design, and will bring together more than 500 designers and 25,000 attendees.
According to Detroit Creative Corridor Center Marketing and Communications Manager Jessica Malouf, this year's Detroit Design Festival will explore Detroit's role as a global center of design.
She told Benzinga that Detroit is an industrial city with a prolific past and relevant future.
"Detroit is the place where you can design, engineer, manufacture and mass market a product faster and more efficiently than anywhere else in the world. Its design and industry made the world mobile and fundamentally changed the way we move, work and live," Malouf said.
RSVP for #DDF2015. Only 1 month away! http://t.co/iAbsk6epGr

— Detroit Design Fest (@DetDesignFest) August 20, 2015
Posted-In: Dally in the Alley Detroit Detroit Jazz Festival labor day SeptemberTravel Exclusives General
View Comments and Join the Discussion!