Bankrate Releases Ranking Of 172 Cities Based On Satisfaction For Retirees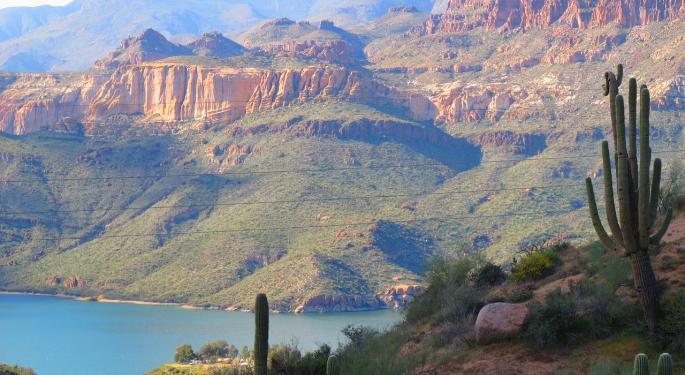 According to a report released Monday by Bankrate.com (NYSE: RATE), the Phoenix metro area has been cited as the best place for retirement, while New York City ranked the worst.
Based upon weather, cost of living, healthcare quality, crime rate, walkability, senior well-being, and tax burden, Bankrate.com ranked 172 cities. Each of these key indicators were meant to measure the satisfaction of retiree well-being in regards to their surroundings.
The report attached to the survey stated, "Senior citizens flocking to Arizona for retirement are on to something – the Grand Canyon state has three metro areas in the top 10 best cities to retire."
Bankrate.com research and statistics analyst, Chris Kahn commented on retirement, saying, "Deciding where to retire is a very personal choice."
"We ranked the cities on factors that matter most to seniors, but recognize that every city has its pros and cons that will be shaped by each individual's personal experiences."
The Top Cities
1. Phoenix metro area (including Scottsdale and Mesa, Arizona)
2. Arlington/Alexandria, Virginia
3. Prescott, Arizona
4. Tucson, Arizona
5. Des Moines, Iowa
6. Denver (including Aurora), Colorado
7. Austin (including Round Rock), Texas
8. Cape Coral (including Ft. Myers), Florida
9. Colorado Springs, Colorado
10. Franklin, Tennessee
Related Link: Before Your Retirement Move, Ask Yourself These Questions
The Bottom 10
163. Cleveland, Ohio
164. Indianapolis, Indiana
165. Oakland, California
166. Hartford (including East and West Hartford), Connecticut
167. Albany (including Schenectady and Troy), New York
168. Newark, New Jersey
169. Buffalo (including Niagara Falls, Cheektowaga and Rochester), New York
170. New Haven (including Bridgeport, Norwalk, Stamford and Milford), Connecticut
171. Little Rock (including North Little Rock and Conway), Arkansas
172. New York City, New York
The release reminded that "while New York City ranked number one for walkability and has a wealth of cultural activities for retirees, its high cost of living and high tax burden can make it a difficult place to live for people on a fixed income." Kahn explained, "Just because a city ranks at the bottom doesn't mean it's a bad place to spend your golden years.
"Soon-to-be retirees should focus on what factors are most important to them and then consult rankings like this to see what cities best fit their criteria."
Benzinga took the opportunity to speak with Mr. Kahn to gain further insight into the retirement relocation process.
Benzinga: What are some specific questions you recommend pre-retirees ask themselves when first discussing retirement relocation?
Chris Kahn: The conversation will be different for everybody. Some people will want to be closer to their children while others simply want to live along the beach. Some would love to spend the summer where it's warm and the winter where it's not so cold.
While they're having the conversation, a few questions would be good to ask about prospective retirement communities:
1. What's the cost of living? How will a move impact my budget?
2. How good is the state/city's healthcare system?
3. Will my taxes go up or down?
Moving is stressful – so do your homework and make sure the place you're picking will satisfy you for a long time.
BZ: Who all should be included within the conversation? Lawyers? Children? Grandchildren? Financial advisors?
CK: If it were me, I'd include children and possibly the family accountant or financial adviser (if you have one). Your children may be your future caretakers, so they should know what you're thinking. And an accountant or financial adviser could probably help you understand how a move would impact your budget.
Related Link: Beautiful Places To Retire Beyond The Sunshine State
BZ: What are a few limitations that pre-retirees might encounter while trying to decide if/where they should relocate?
CK: The big limitation is money. Many Americans haven't set aside enough to retire. Their primary concern isn't "where" to retire but "when" and "if."
BZ: When do you recommend beginning retirement relocation research?
CK: As soon as you begin planning your retirement.
BZ: Beyond retirement funds, what else would pre-retirees need to have squared away before relocating?
CK: Oh, there's so much to do! Here's a checklist from Bankrate.
The full list of retirement cities can be viewed here.
Image Credit: Public Domain
Posted-In: Bankrate.com Chris Kahn relocationTravel Top Stories Exclusives Personal Finance Interview Best of Benzinga
View Comments and Join the Discussion!