A 2015 Run Down The Runway: U.S. Airline Stocks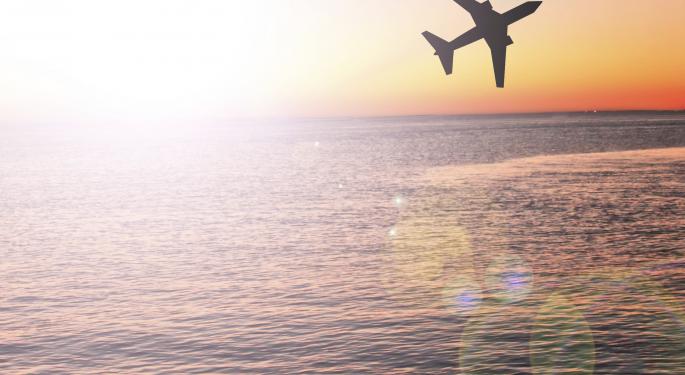 With oil prices plummeting and airlines reaping some of the benefits, many traders have turned to the skies looking for winning stocks. Here is a rundown of some of the airline industry's hottest tickers.
American Airlines Group Inc (NASDAQ: AAL)
After merging with US Airways in 2013, American Airlines became the largest airline in the world with an extensive domestic and international network. Low fuel prices helped the company's shares gain 99.32 percent last year. This year is expected to be another bright one.
Over 2014's first weekend, the company's pilot union agreed to a five-year contract deal, pushing share prices up 0.85 percent.
Related Link: 3 Sectors That Benefit From Lower Oil Prices
Southwest Airlines Co (NYSE: LUV)
Southwest is the world's largest low-cost airline and has an extensive domestic network. The company is a popular choice for investors, as its stock performance over the past couple of years has been impressive. The company has met or beat its earnings expectations for the past year and remains a heavily used carrier due to its "bags fly free" policies.
It recently completed expanding its "Love Field" in Dallas, which is expected to contribute to a 6 percent increase in the company's flying capacity this year.
Delta Air Lines, Inc. (NYSE: DAL)
Delta Airlines is the United States' third-largest carrier and will likely benefit from lower fuel prices this year, but could be forced to write off $1.2 billion from fuel hedging. The company's share price lost 4 percent this week after a report showed an annual drop in passenger unit revenue in December 2014. However, the reduced figure was largely attributed to the placement of the Christmas holidays, which put the company's busiest travel days in November rather than December.
Delta is also struggling to hold on to a key position in the Tokyo airport, as both American Airlines and Hawaiian Airlines vie for the same slot.
United Continental Holdings Inc (NYSE: UAL)
United stands to benefit the most from the drop in oil prices as the company has reported that roughly 30 percent of its operating costs are attributed to fuel. Additionally, the company's recent push to use smaller, more efficient planes will reduce much of its overhead.
United shares gained 65 percent last year as the company began a massive expansion plan that will open up new international routes in 2015.
Posted-In: airlines Fuel Prices OilTravel Markets Trading Ideas Best of Benzinga
View Comments and Join the Discussion!