Why Selling Used Cars Could Work For Tesla Motors Inc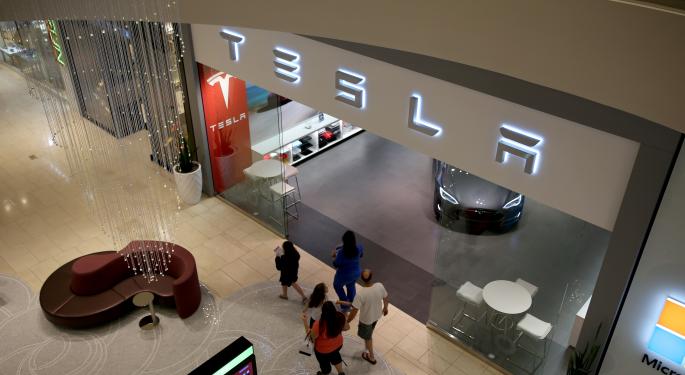 Can't afford a new car from Tesla Motors Inc (NASDAQ: TSLA)? No worries, the automaker will soon be selling used versions of its Model S.
Ahead of the automaker's unveiling event planned for 7 p.m. PT on Thursday, Automotive News reported that Tesla is developing its own certified pre-owned vehicle program to sell used versions of the Model S.
Related Link: Why Tesla Isn't A Car Company
A CPO program means that Tesla will sell used models of its vehicles that have gone through inspection, received quality certification and a warranty.
Tigress Financial Partners Chief Investment Officer Ivan Feinseth said this is the next step after creating a buyback program for the Model S, which was unveiled in April of this year.
Tesla offers a guaranteed buyback after 36 months, according to the Los Angeles Times, where buyers can sell the car back to the company for the same resale value as the Mercedes S-Class sedan.
"[The CPO program] eliminates some of the concerns of getting a pre-owned vehicle, which would be getting a crappy car," Feinseth said.
Analysts also pointed out other ways the program could help the automaker.
Another Revenue Stream
Cars.com Manager of Advertiser Insights David Greene echoed similar sentiments to Feinseth, saying that Tesla has to do something with cars that come back from leasing and buyback guarantee programs.
"A certified pre-owned program will boost profit margins for every vehicle resold, and pre-owned vehicles traditionally have higher margins than new sale," he told Benzinga.
In general, a CPO program both helps to support new car prices, and creates a second market for used models, AutoTrader Group Director of Automotive Relations Michelle Krebs told Benzinga.
"In Tesla's case, it has an extra benefit because they reap the profits of those vehicle sales because they don't have dealers," she said.
Access To New Markets
There are a few different examples of how this can expand the Tesla customer base.
First, there are some car shoppers who only buy certified pre-owned cars, Edmunds.com analyst Ivan Drury told Benzinga.
"Now, you can tap into that customer base that's strictly a used customer," he said.
Related Link: 5 Analyst Theories On The Tesla Motors Inc 'D' Tweet
In addition, the used vehicles will probably sell for a lower price than that of brand new models. Greene said it's reasonable to expect a CPO Model S to be priced in the range of a new entry- to mid-level luxury car from other automakers.
"The CPO program won't make Model S attainable for everyone, but it does make Model S more desirable and accessible for a broader group of shoppers," he said.
Natural Progression
This is just what an automaker does, according to Krebs.
"Every luxury maker has very good certified pre-owned programs," she said.
Drury said that this even makes Tesla more mainstream, in a sense.
"Originally they're seen as such an outcast in the sense that they're so different. The vehicles they sell are so different. The dealerships are so different," he said. "But now you're integrating many mainstream elements of a car dealership and the manner in which you sell cars."
A CPO program can even make Tesla more accessible for those who might have steered clear before, Drury added.
Disclosure: At the time of this writing, the author had no position in the equities mentioned in this report.
View Comments and Join the Discussion!
Posted-In: auto Cars.com Edmunds.com Michelle Krebs Tesla tesla motors Tigress Financial ParntersTech Best of Benzinga