Forbes Fab 5 Among Actors And Actresses: Did They Earn Their Keep?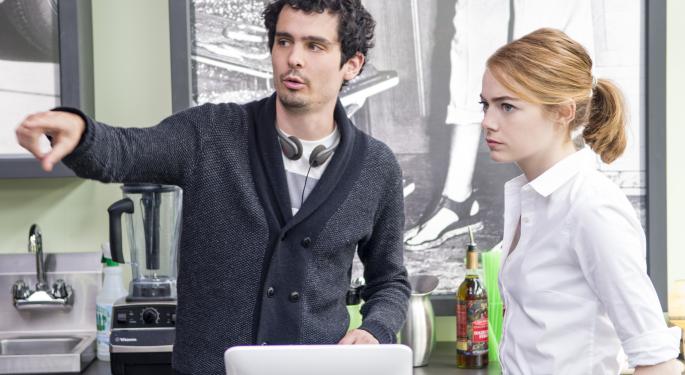 Former white rapper, underwear model, current AT&T Inc. (NYSE: T) spokesperson and forever convicted hate criminal Mark Wahlberg inexplicably led the Forbes list of the highest-paid actors in the known universe this year.
His credits? The worst-performing of the "Transformers" series, an oil-rig adventure called "Deepwater Horizon" that bombed, and a take this year on the Boston Marathon bombing — "Patriots Day" — that bombed even more.
How does he do it? Studios pay him outrageous upfront fees, Forbes says, forgetting that there is little in his artistic and commercial portfolio to recommend the dubious services of the squinty-eyed actor.
Forbes had to break down the list of highest-paid actors by gender because, naturally, there remains a massive wage disparity between women and men in Hollywood. Gal Gadot, star of the stunning sleeper hit "Wonder Woman," made only $300,000 even though her breakout vehicle broke all kinds of records en route to surpassing $800 million worldwide.
Here are the top five actors and actresses from the Forbes list, along with their earnings:
Men
1. Mark Wahlberg: $68 million
Bad year. Got richer. AT&T money didn't hurt.
2. Dwayne "The Rock" Johnson: $65 million
Starred in "Baywatch," a commercial and critical failure. Co-starred with the following guy in "The Fate Of The Furious," which was a money machine.
3. Vin Diesel: $54.5 million
Also drove a car in "The Fate of The Furious" and did the voice-over of a tiny, talking, CGI tree who repeated the same line — "I am Groot" — throughout the entirety of "The Guardians of the Galaxy, Vol. 2."
4. Adam Sandler: $50.5 million
Hasn't made a decent move since ever. Got a huge payday by signing up with that content devourer Netflix, Inc. (NASDAQ: NFLX).
5. Jackie Chan: $49 million
The human special effect's star has waned in the United States, but he still puts fannies in the seats in China.
Related Link: Wonder Woman Woos Hollywood With Remarkable Box Office Legs
Women
1. Emma Stone: $26 million
Starred in "La La Land," which netted her an Oscar and banked big money for Lions Gate Entertainment Corp. (USA (NYSE: LGF). Seriously underpaid compared to Mark Wahlberg.
2. Jennifer Aniston: $25.5 million
"Friends" residuals are the gift that keeps on giving.
3. Jennifer Lawrence: $24 million
Took time out from blockbusters to star in arthouse flicks such as "Mother," "Red Sparrow" and a lucrative gig with Dior.
4. Melissa McCarthy: $18 million
She wasn't in anything this year, but still made a bundle. Because Hollywood!
5. Mila Kunis: $15.5 million
Starred in memorable ads for Beam Inc., makers of Jim Beam bourbon. In 2014. This year? Just a blank on her filmography.
_______
Image Credit: "Director Damien Chazelle and Emma Stone on the set of 'La La Land'" By Activités culturelles UdeM CC0, via Wikimedia Commons
View Comments and Join the Discussion!
Posted-In: actors actresses ForbesTopics Top Stories Media General Best of Benzinga