Here's Where You Can Find The Cheapest Beer In America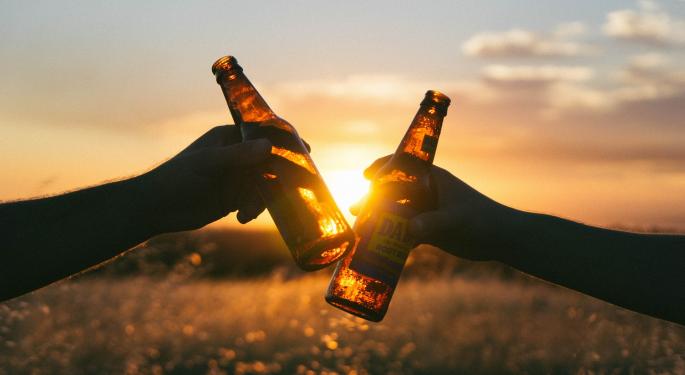 The price of a 24-pack of beer varies from state to state, mostly due to taxes, Simple Thrifty Living found in a study. Based on prices of 12-fluid-ounce cans sold at Wal-Mart Stores Inc (NYSE: WMT) stores, beer drinkers in the state of Michigan pay the least amount.
The price of a 24-pack of beer on average in Michigan will set consumers back $14.62 (recycling fees not included), followed by California at $14.87, Illinois at $15.00 and North Carolina at $15.23.
The difference is quite notable among the most expensive states, the study found. For instance, consumers in Pennsylvania pay on average $21.98 for a 24-pack. Although this shouldn't come as a surprise as the state has one of the highest taxes for beer in the country as it is an "alcoholic beverage control state" where sales of beer, liquor and spirits are state-controlled.
Tennessee ranks a very close second at $21.97 on average for a case of beer, followed by Texas at $21.66 and North Dakota at $21.38.
Of course, the study didn't look at craft and specialty beer — consumers looking to pick up a case of beer at these prices will be limited to Anheuser Busch Inbev NV (ADR) (NYSE: BUD)'s Bud or similar brands, Detroit Metro Times noted.
10 Cheapest States For A 24-Pack
Michigan: $14.62.
California: $14.87.
Illinois: $15.00.
North Carolina: $15.23.
Connecticut: $15.96.
South Carolina: $15.96.
Indiana: $15.98.
Virginia: $15.98.
Arizona: $16.35.
Nebraska: $16.62.
10 Most Expensive States For A 24-Pack
Pennsylvania - $21.98.
Tennessee: $21.97.
Texas: $21.66.
North Dakota: $21.38.
Rhode Island: $21.10.
Nevada: $20.93.
Oklahoma: $20.66.
Alaska: $20.65.
Wyoming: $20.45.
D.C.: $20.34.
From the Benzinga family to yours: Have a happy and safe Fourth of July weekend! Drink responsibly.
Related Links:
Politics' Push And Pull On The Alcohol Industry
Even Beer Companies Use AI And Machine Learning Technologies
Posted-In: Beer beer prices Beer TaxesTopics Travel Top Stories Media General Best of Benzinga
View Comments and Join the Discussion!