Fund Manager: 50 Retailers Could Go Bankrupt This Year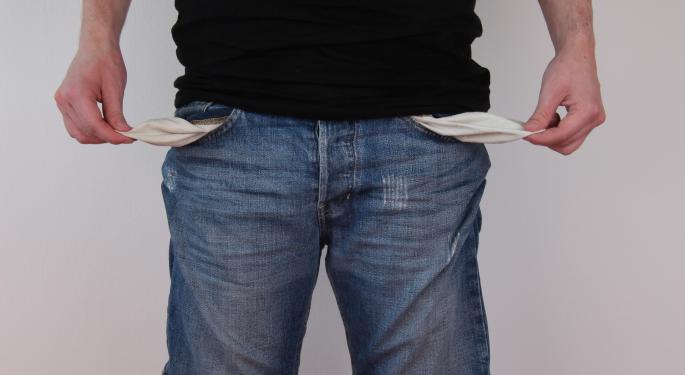 Throughout the first quarter of 2017 there have been nine different retailers that filed for Chapter 11 bankruptcy. At an annualized pace, this trend implies 36 retailers will become bankrupt this year, twice as many as 2009's peak of 18.
But according to Mudrick Capital Management's founder and CEO Jason Mudrick, the number of retailers who will declare bankruptcy this year could be as high as 50. Speaking as a guest on "Bloomberg Daybreak: Americas," Mudrick pointed out that many retailers have been reporting declining top-line numbers for quite some time and it is most certainly not a cyclical issue.
Mudrick emphasized that the woes plaguing retailers are "forever trends," as the simple reality remains that in 10, 20 years more people will be shopping online. Meanwhile, the older generation, who don't fully understand e-commerce or prefer brick-and-mortar, won't be around in 20 years in the same numbers.
"This is the Amazon.com, Inc. (NASDAQ: AMZN) effect and its here forever," Mudrick said.
Not Touching Retail
Mudrick's firm specializes in distressed credit and other deep value event driven events. But he isn't touching retail distressed credit as most products are trading at around six times cash flow — a valuation that implies a "stable to growing business."
A more appropriate valuation would be three to four times cash flow and although the valuation may not suggest it, up to 50 retailers could end up becoming bankrupt this year.
"If you want to talk about trades, the trade is to be short the sector," Mudrick said.
However, this is easier said than done. Mudrick noted that it is impossible to short distressed credit products and even shorting bonds implies the investor must pay the coupon and there is a very limited supply of bonds to even borrow in the first place.
Related Links:
Retail's Latest Casualty: Payless
Does The Retail Stigma Hurting Barnes & Noble Unfairly Extend To Barnes & Noble Education Shares?
View Comments and Join the Discussion!
Posted-In: bankruptcy Bloomberg Jason MudrickTopics Media Trading Ideas General Real Estate Best of Benzinga