Health Foods Are Tasting Good To Investors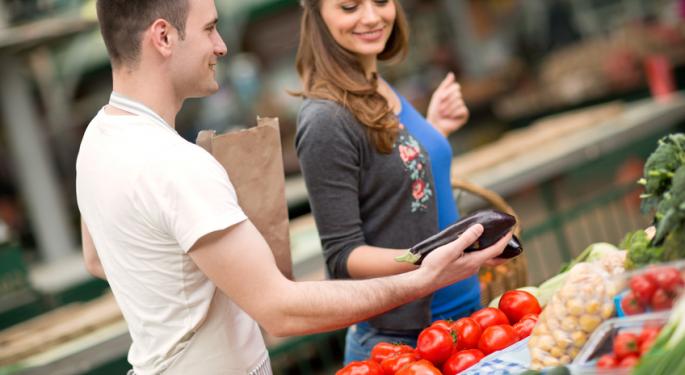 Who knew all it would take for investors to embrace Whole Foods Market, Inc. (NYSE: WFM) again was a commitment by the famously overpriced health-food grocer to finally cut prices?
Yet it's not like long-term investors in Whole Foods have been exactly suffering. As a recent Barron's article points out, the stock has multiplied six times since 2001, while virtually inaugurating the idea that those with money will pay a premium for organic, artisanal and novel foods. A boom in wealthy U.S. households since the financial crisis hasn't hurt either.
But in the past two-and-a-half years, the stock has fallen by nearly half, due mostly to two main reasons: First, rising competition from the likes of Sprouts Farmers Market Inc (NASDAQ: SFM) and The Fresh Market Inc (NASDAQ: TFM), as well as traditional grocers like The Kroger Co (NYSE: KR) and mass merchants like Costco Wholesale Corporation (NASDAQ: COST), both of which have built out organic lines. Then there's Amazon.com, Inc. (NASDAQ: AMZN), which is pouring resources into its AmazonFresh delivery service.
Second, the supply of well-heeled shoppers has been mostly tapped. Whole Foods' youngest stores are in markets with significantly lower population density and education levels, and somewhat lower income levels, than its older ones.
Whole Food management, to the chagrin of its more recent investors, didn't seem to have a strategy in place to respond. Just three years ago, sales at longstanding stores were growing by more than 7 percent year-over-year. Now, they've dropped for three straight quarters.
Reboot with a "365" value grocery
But changes are coming, including cost cuts to boost competitive pricing in stores, and the launch last month of a value chain called 365 that could unlock new markets. These stores are smaller than Whole Foods stores, with less than one-third as many items and an emphasis on automation and millennial treats. As Barron's put it, "think Trader Joe's, but with a tea-blending robot and craft beer on tap."
The turnaround may not come overnight, but Barron's believes that the stock could see 20 percent upside over the next year as sales trends tick higher.
Analysts at Credit Suisse gave the overhaul a thumbs-up, recently upgrading the stock and raising its price target to $40 from $30 (The stock closed Monday at just under $35). The analysts noted that "the middle-income and millennial customer accounts for more of the industry growth today than in the past, as healthy living goes mainstream." As a result, the days of charging upper-income consumers high prices for organic food is over. Whole Foods may be late to the party, the analysts said, but the repositioning should reinvigorate growth.
Whole Foods shares have gained 12.4 percent in the last month, giving a boost to other healthy food investments. The Healthy and Tasty motif, with a 15.6 percent weighting in Whole Foods stock, has gained 8 percent in the last month. In that same time frame, the S&P 500 has increased 2.8 percent.
Over the last 12 months, the motif has fallen 8 percent; the S&P 500 has risen 3.2 percent.
The motif also has received some help from component Hain Celestial Group Inc (NASDAQ: HAIN), which has seen its stock rise 3.2 percent in the past month following the company's earnings report last month, which underperformed profit expectations but no doubt helped prompt the company to announce a renewed focus on the bottom line.
Hain said it will undertake a review to identify $100 million in cost savings over the next three years, including finding cheaper ways to procure, make and distribute products. It will also narrow its growing product line to focus on fast-moving items within its core brands and will also launch a "venture unit" to incubate smaller brands and invest in new health and wellness products.
Ultimately, the move toward expanding the marketplace to other socioeconomic classes could pay off for the stocks of companies that have been slow on the draw – even if those companies learned their lesson from Costco and Amazon.
View Comments and Join the Discussion!