Protect Yourself From Cyber Attacks
A colossal cyber-attack has made global headlines this weekend, nipping at the heels of President Obama's newly implemented cybersecurity agency.
"It's the biggest single episode of cybercrime to be discovered," Kate Palmer of UK's The Telegraph reported.
The New York Times' David E. Sanger and Nicole Perlroth stated that "the scope of this attack on more than 100 banks and other financial institutions in 30 nations could make it one of the largest bank thefts ever – and one conducted without the usual signs of robbery."
German news outlet "Deutche Welle" published that the attack has been in the works for "at least a year" and has successfully stolen "up to $1 billion from banks around the world."
Similar ghastly reports have been flooding news outlets all morning with every corner of the globe quickly responding, from Jamaica, India, Nigeria, Australia and China to name just a few.
While the breadth of the attack is still unknown and sources continue to tout that the attack may not be isolated or even complete, widespread panic over financial security has once more been ignited. Although hacks of this size may be unavoidable for victims, there are things individuals can do to thwart lesser-scale hacks.
What Can You Do To Avoid Becoming A Victim?
1) On The Phone Do not give out personal information via phone. Do bank business at the bank. To most effectively protect yourself, avoid any transfers of funds or changes to your account unless done in person, at your banking institute. In this age of technological advancement, this may feel like a step backwards, but remember that technology does not just bring convenience to the good guys. Technology in and of itself is indiscriminant.
Likewise, do not provide medical information to unsolicited calls. HIPAA regulations restrict the public sharing of your medical history, so regardless of how much information a caller may have on you, do not disclose any surgical history, personal data or pharmaceutical information to anyone but your medical provider and verified insurance company.
2) Across Email Don't open email messages from unknown senders. In the same vein, do not click on links in said emails if you find yourself having opened a seemingly legitimate email. It is thought that this latest gargantuan banking heist was accomplished through this means.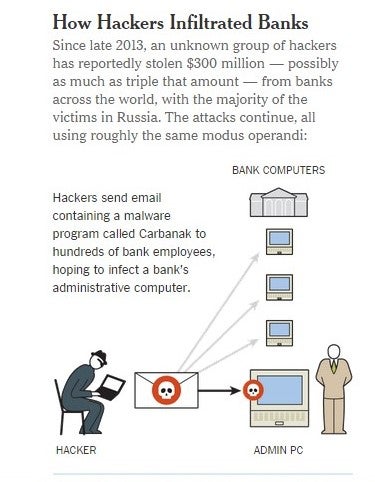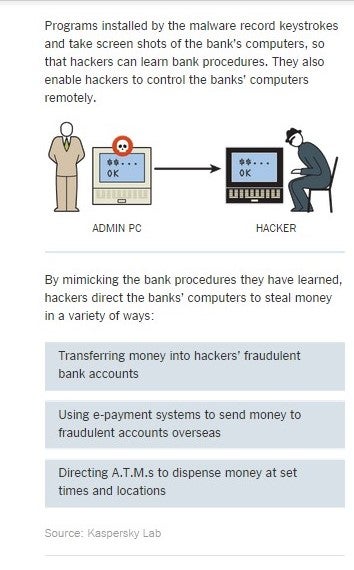 The New York Times explained, "The cybercriminals sent their victims infected emails – a news clip or message that appeared to come from a colleague – as bait. When the bank employees clicked on the email, they inadvertently downloaded malicious code. That allowed the hackers to crawl across a bank's network until they found employees who administered the cash transfer systems or remotely connected A.T.M.s."
3) Through Background-Performing Cell Phone Apps Be wary of cell phone apps, especially ones that ask your permission to perform in the background while you are not actively using the app. While mobile hacks have not made the publicized impact Internet attacks have, the potential is real.
Related Link: Top 5 Personal Finance Apps: All Free And Available On iOS And Android
The innovative technology of GPS tracking has its definitive benefits (911 settings, avoiding traffic, convenience), but it also carries a severe shortcoming – making your location and habits easily tracked and predictable. Additionally, with the amount of personal data stored on cell phones, the appeal to malicious software is apparent.
4) On Personal Computers Use your personal computer with caution as well. Do not shop from storefronts that are on unencrypted websites (websites that do not begin with "https"). Do not download virus scanners that sound too good to be true or are not from a reputable software. Common fake virus scanners include Antivirus Suite, Cloud AV, Smart Anti-Malware Protection and Home Malware Cleaner; reputable software names include Zonealarm, AVG and Avira.
Related Link: 3 Tips For A Year-End Tax Checkup
View Comments and Join the Discussion!
Posted-In: cyber attack cyber hack CybersecurityTopics Top Stories Tech Personal Finance General Best of Benzinga