Apple, Google Lead List Of Top 10 Most Valuable Brands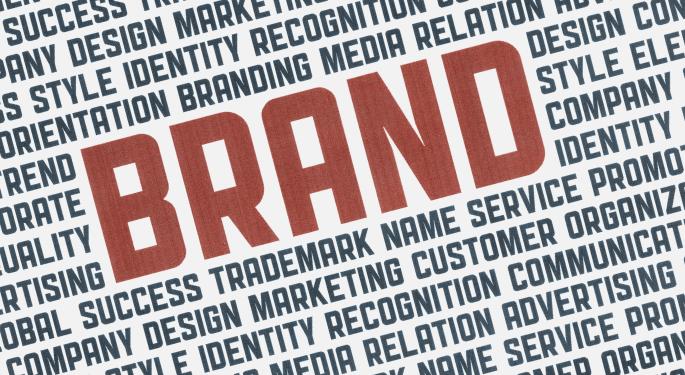 Some companies seem to always have what it takes to stay on top. Whether they've been around for 10 years or 100 years, companies know what makes a good brand.
Here is Interbrand's list of the 10 most valuable brands. Since 1974, Interbrand has been one of the world's leading brand consultancies, with a network of 33 offices in 27 countries.
1) Apple Inc. (NASDAQ: AAPL) (Value: $118.863 billion/Change in brand value: +21 percent)
For the second year in a row, Apple is No. 1 on the most valuable brands list. Two of Apple's most recent projects include CarPlay and HomeKit, designed to make cars and homes "smarter."
2) Google Inc (NASDAQ: GOOGL) (Value: $107.439 billion/Change in brand value: +15 percent)
Google is looking to "create products and services that are 10 times better than the competition," said CEO Larry Page.
3) The Coca-Cola Company (NYSE: KO) (Value: $81.563 billion/Change in brand value: +3 percent)
This 128-year-old beverage brand is always evolving to fit consumer needs. It recently introduced the "Share a Coke" campaign, which uses social media to broadcast stories from global fans.
4) International Business Machines Corp. (NYSE: IBM) (Value: $72.244 billion/Change in brand value: -8 percent)
IBM has partnered with Apple and launched TrueNorth, a computer chip designed to help humans make better decisions.
Related Link: Top 20 Financial Pundits To Follow On Twitter
5) Microsoft Corporation (NASDAQ: MSFT) (Value: $61.154 billion/Change in brand value: +3 percent)
This technology bigwig has released an assortment of new products including Cortana, a voice assistant expected to rival Google Now and Apple's Siri.
6) General Electric Company (NYSE: GE) (Value: $45.480 billion/Change in brand value: -3 percent)
Moving toward the "big data" world, General Electric has recently purchased French company Alstom's steam and turbine businesses in an effort to expand.
7) Samsung Electronics Co Ltd (Value: $45.462 billion/Change in brand value: +15 percent)
Samsung increased its marketing spend in 2013. It also hosted the 2014 Sochi Winter Olympics and made a "special appearance" at this year's Oscars.
8) Toyota Motor Corp (NYSE: ADR) (Value: $42.392 billion/Change in brand value: +20 percent)
At 77 years old, Toyota has managed to sustain itself. In a massive step toward expansion, Toyota has moved approximately 4,000 employees from California to Texas, looking to bring its sales, marketing and manufacturing teams together.
9) McDonald's Corporation (NYSE: MCD) (Value: $42.254 billion/Change in brand value: +1 percent)
According to Interbrand, this food chain has more than 35,000 locations in more than 100 different countries and serves about 70 million customers a day.
10) Mercedes-Benz U.S. International, Inc. (Value: $34.338 billion/Change in brand value: +8 percent)
This German luxury automaker has recently witnessed a sales increase of 14 percent. Interbrand states there has been a rise in purchases in the U.S., and the company is revitalizing its image in Europe and closing in on Asian markets.
Posted-In: InterbrandTopics Success Stories General Best of Benzinga
View Comments and Join the Discussion!