Don't Be Scared, But Robots Are On The Verge Of 'Revolutionizing' Manufacturing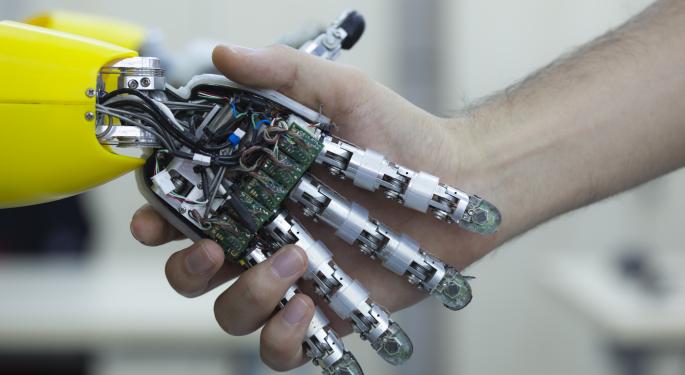 Worker wages are rising and factories are hiring again, but the era of robots in manufacturing may arrive sooner than expected.
A recent report by consultancy firm PriceWaterhouse Cooper states that industrial robots are "on the verge of revolutionizing" manufacturing. According to the firm, a record number of robots (180,000) were shipped last year. That number is expected to rise to 200,000 this year, according to the International Federation of Robots.
More tellingly, funding for robotics systems startups increased dramatically -- almost 150 percent -- to $172 million last year, as compared to 2012 figures. The funded startups are also being acquired at a frenetic pace: Google Inc (NASDAQ: GOOG) (NASDAQ: GOOGL) alone has snapped up eight robotics-related startups since last year.
Related Link: Why Manufacturers Should Fear 3D Printing
Established manufacturers are also introducing robots in their workforce to increase productivity and amortize future costs. Foxconn, which assembles Apple Inc.'s (NASDAQ: AAPL) iPhones, has already started a pilot of 10,000 robots in its factory. Each "Foxbot" cost roughly $20,000 to $25,000 to make and assembles 30,000 devices. The Chinese manufacturer plans to deploy a million robots at its factory in the near future.
Similarly, Amazon.com, Inc. (NASDAQ: AMZN) plans to save almost $900 million (40 percent savings on cost per order) by installing 10,000 Kiva robots by the end of 2015. Kiva is a robotics company aquired last year by the ecommerce giant.
Is "Botsourcing" A Good Thing?
An increased number of robots may conjure visions of a dystopian future of disaffected workers and mass layoffs, but "botsourcing" may not be such a bad deal. Manufacturers may experience less stress due to absence of wage arbitrage and health insurance-related headaches.
According to the report, there will be a "commingling of humans and machines." The robot boom will lead to a corresponding boom in human jobs to engineer, program and operate robots.
So, what does the "roboticization" of manufacturing mean for the stock market?
Google and Amazon are instances of technology companies moving into the robotics space. However, there are a number of pure-play robotics companies that might interest investors.
Based on their target market, these companies can typically be divided into two categories: companies that make robots for general industry, and consumers and companies that make robots for specific industries. iRobot Corporation (NASDAQ: IRBT) and Adept Technology Inc (NASDAQ: ADEP) are examples of the former category, while companies like Mazor Robotics Ltd (NASDAQ: MZOR) are examples of the latter category.
Posted-In: manufacturing PriceWaterhouse Cooper robotsTopics Top Stories Tech General Best of Benzinga
View Comments and Join the Discussion!