Taking Stock Of Smith & Wesson Versus Sturm Ruger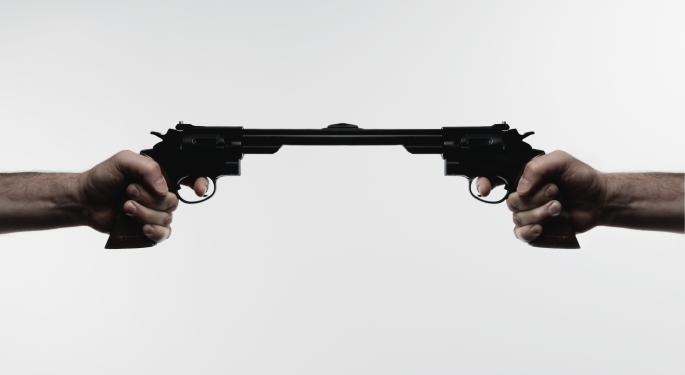 Guns have famously been called "The Great Equalizer," but that doesn't mean every gun stock is equal. For those interested in guns, which is the better play: Smith & Wesson (NASDAQ: SWHC) or Sturm Ruger (NYSE: RGR)?
Fear Driven Sales Spike Over
Smith & Wesson and Sturm Ruger enjoyed massive stock appreciation a few years ago, which stemmed from fears of gun regulation. While both stocks are down year to date, over the past three years, Smith & Wesson and Sturm Ruger have enjoyed stock appreciations of 296 percent and 79 percent, respectively.
The fears of gun regulation have subsided, and so has demand. These factors are likely why there are large short positions on Smith & Wesson (27 percent) and Sturm Ruger (30 percent).
Related Link: Have You Been Hacked?
Negative Recent Results
Smith & Wesson's first-quarter sales declined $39.2 million to $131.9 million year over year. Gross profit came in at 37.2 percent of net sales versus 42.6 percent of net sales in the year-ago quarter. Culprits for the poor gross profit performance were: reduced sales volumes of modern sporting rifles, related decreases in fixed-cost absorption, and fewer production days versus the year-ago quarter.
Important news, but investors have a tendency to look ahead, not backward.
Weak Future Expectations
Smith & Wesson is concerned about weak rifle demand and high inventories in the near future, leading it to expect second-quarter revenue of $100 million-$110 million versus an earlier expectation of $137.3 million, as well as earnings-per-share of $0.04-$0.08 versus an earlier expectation of $0.28.
Looking further out, Smith & Wesson has also reduced its full-year guidance (fiscal year ends in April). The company now expects fiscal-year revenue to come in at $530 million-$540 million versus an earlier expectation of $585 million-$600 million.
Key Metric Comparisons
Based on current trends, investors might want to use caution when investing in either Smith & Wesson or Sturm Ruger. However, investors considering a play may want to consider how the two companies match up on three key metrics.
One, Smith & Wesson doesn't offer any dividend payments, whereas Sturm Ruger yields 3.6 percent. Two, while Smith & Wesson has seen top-line growth of 59 percent over the past five years, this is still well shy of Sturm Ruger at 150 percent. Third, when it comes to the bottom line over the same time frame, Smith & Wesson has delivered 145 percent growth, while Sturm Ruger has delivered 270 percent growth.
View Comments and Join the Discussion!
Posted-In: gun regulation guns Smith & Wesson Sturm RugerTopics General Best of Benzinga