5 Ways The U.S. Army Uses 3D Printing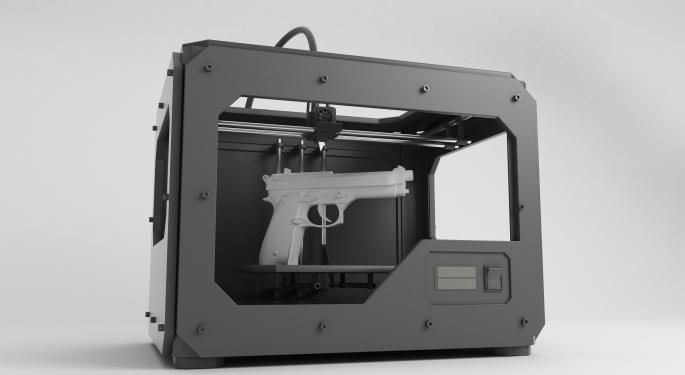 3D printing is a relatively new technology, but the United States Army is already implementing it into several facets of their operations and is looking for more ways to take advantage of it.
In 2012, the Rapid Equipping Force began using 3D printing to make essential tools used by troops and other personnel in Afghanistan. The Army Research Lab uses it to fix damaged and malfunctioning aircraft as well as certain ground vehicles. Military researchers have begun 3D printing certain communication devices into uniforms and other clothing.
The technology, also referred to as "additive manufacturing," is becoming increasingly common among the U.S. Army's best practices, some of which include the following:
Food
Perhaps the last thing anyone outside the military would think of when talking about 3D printing, the Army has been actively working with NASA to develop ways to print food.
Printing food could produce it on demand, reducing the costs involved in feeding troops and other personnel. Even better, soldiers could custom-order their meals, which would boost morale and give them an opportunity to replenish their bodies with particular vitamins and nutrients that they need.
Clothing
Researchers who design and manufacture gear for the U.S. Army are making the transition from traditional methods to those of 3D printing.
Items like the armor system, helmet covers, field clothing, and even chemical and biological protection gear are becoming the focal point of research and implementation efforts involving clothing. 3D printing would also allow for combat uniforms with significant increased flexibility in areas like joints and insteps where movement can be restricted.
Related Link: 5 Cool Items To Buy From The Amazon 3D Printing Store
Medical Equipment
Army researchers have been praising 3D printing as it relates to medical equipment. It allows for the creation of prototypes that essentially cut out many of the logistical steps involved in the traditional process of building certain pieces of medical equipment. Turnaround time for projects involving equipment design and manufacturing is cut in half.
Human Skin
It may sound a bit macabre, but printing human skin is actually one of the most advanced applications that researchers have come up with to date. It is still in its testing phase, like many of the applications for 3D printing, but researchers are on the verge of nailing down a way to 3D print human skin for treating wounded soldiers. Though likely to be controversial if it ever goes live, the benefits--such as potentially saving lives and improving the quality of life for survivors of war--are almost irresistible.
Warheads
On the opposite end of the spectrum is the use of 3D printing to create warheads. Printing enables the manufacture of warheads that are safer for the military personnel to use while being more lethal and operationally capable than anything currently in the Army's arsenal. 3D printing allows for significantly more precise targeting but, perhaps even more important, it can direct the resulting explosion, which is something in which the Army is very obviously interested.
Posted-In: 3d Printed food 3D printed skin 3D Printing U.S. ArmyTopics Tech General Best of Benzinga
View Comments and Join the Discussion!