CannLabs Executives Talk Expansion And Becoming The FDA Of Cannabis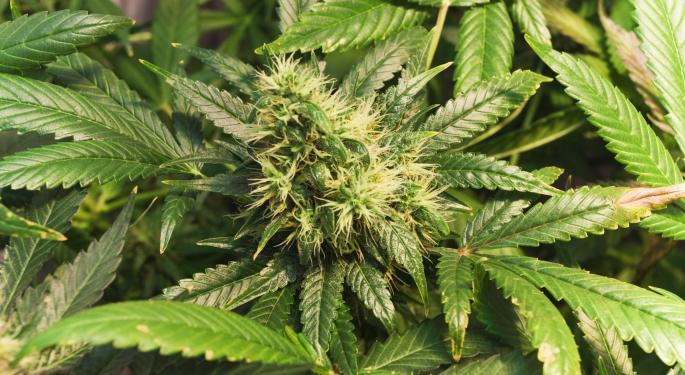 One of the marijuana-based companies meeting with the public at this week's Weedstock Cannabis Investor Conference in Denver is CannLabs (OTC: SDSPD).
The cannabis testing service, state-licensed in Colorado, recently went public via a reserve merger and has ambitious expansion plans. (Its stock symbol is also expected to change on the OTC or about July 10, to CANL).
Benzinga spoke on Monday with three CannLabs executives, CEO Genifer Murray, CFO Scott McPherson and president and COO Steve Kilts, following their Weedstock presentation.
Can you explain the process you went through, in going public?
McPherson: We were looking to expand and the public vehicle was the way to get there faster. Obviously there's more capital with the public vehicle. And we could have done it through a private vehicle but with the public market it's much easier to achieve our goals and expansion plans.
Related: Brochstein: Marijuana Rapidly Developing Into A Real Industry
Explain your reverse merger?
McPherson: A reverse merger is when you have a non-public entity that wants to become a public entity. So what you do is you find a company that has little or no operations, or an operating company, and merge into that company, to make yourself a public company.
There are different ways to do it, you can do a registration statement yourself, but that takes more time and effort on your behalf, rather than just merging into a company that's already public.
Are there any risks or challenges for the company in doing this?
McPherson: No more substantial than anything else. Obviously you have SEC regulation now. We had to go through the FINRA process and get approved, but there's really no major obstacles, being a public company. More costs, obviously, but it provides a much better opportunity to expand nationwide, and that's what we want to do.
In terms of the SEC, there was its recent warning about marijuana-related investments. Did that affect you?
McPherson: It may have put a chill on the industry itself, but we've brought together a board that is very used to this kind of industry and being public. We put together our audit committee, all the foundations of a public company, so we're not worried about that becoming a problem for us.
Related Link: Brochstein Part 2: New Cannabis Industry Is A 'Once In A Generation Opportunity'
You describe CannLabs as the FDA of the cannabis industry. What do you mean?
Murray: CannLabs is really the seal of approval. We do testing and consulting and everything else around health and safety. That's what we stand for, we're a science company. And I just think that, once (marijuana) goes federally legal, that the FDA will be looking to us as the certification body – to really explain to them the data and how it's all working.
Looking at the expansion and operation of your company; things seem to be moving more rapidly than expected. How are you keeping up with this?
Kilts: We've been capitalized now, to basically carry out our plan to expand the core business of the labs and then also create these new verticals I was talking about at the (Weedstock) presentation.
And within the next five years, will you be playing to your core strengths?
Kilts: Yeah. So testing and the science is the core strength, and then we also have the information systems, the data analytics information. Because fundamentally we sell information.
If you look at all of our different business units, whether it's lab testing or consulting, or the web site monetization, in all cases it's data and information. That's one of our biggest strengths. And then also our credibility in the industry.
We're recognized as industry leaders; we're far ahead of our competition, and right now it's just a matter of maintaining that.
Posted-In: CannLabs CEO Genifer MurrayCannabis Topics Success Stories Startups Interview General Best of Benzinga
View Comments and Join the Discussion!