Isiah Thomas Assists In Annual Detroit Fireworks Fundraiser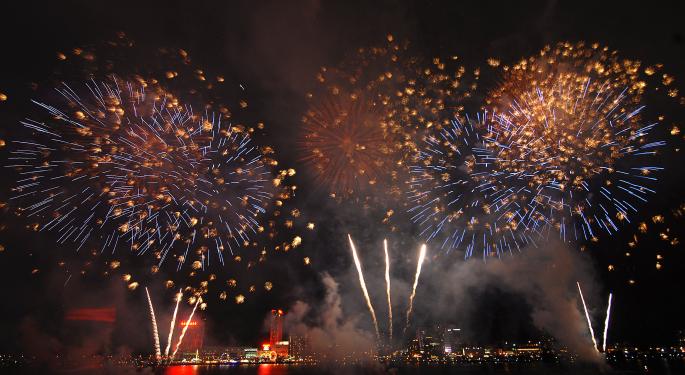 A 'bad boy' stopped by the 56th annual Detroit Fireworks.
Serving as honorary chair for the 9th Annual Catch the Fireworks With Cass benefit, former Piston Isiah Thomas helped spread love in the community throughout the day.
"People came up to us at the shelters," said Rev. Faith Fowler, executive director, Cass Community Social Services (CCSS). "These kids wouldn't know who Isiah is, and then two women came up and brought their bible for him to autograph.
"I can't tell you how much it means to them and us, to have this kind of support. I know the city's turning around, but there are days that are long - really long. When they are, we'll remember [days like] today."
Related: Michael Jordan: The $1 Billion Man
CCSS has an annual operating budget of about $5.5 million. They prepare and serve one million meals annually. The organization operates a weekly free medical clinic and a day program for 100 adults with developmental disabilities. Seventy adults are currently employed in the agency's Green Industries which marry jobs with sustainability.
Tickets for the fireworks benefit cost $250, with several items up for auction. CCSS anticipates about $100,000 raised in donations from the nearly 300 attendees.
Game Changers
Earl Cureton, a native Detroiter and Piston who now works for his former team, spoke about how the franchise yearns to be more than just a basketball team.
"We have a vision of mind not only to use The Palace of Auburn Hills as a venue for basketball and entertainment, but also to bring the community together," said Cureton, quickly followed up by Thomas.
"Vision!" the two-time NBA champion shouted.
Cureton then introduced the Game Changers program. The program is meant to honor someone in the state of Michigan who has made a difference in the community.
"Change the game, baby!" Thomas piped out.
An emotional Michael Smith was honored Monday night. Smith spent much of his life on the street, but has since pulled himself up and is the owner of Woodward Quality Furniture in Highland Park, Michigan.
.@iamisiahthomas & Earl Cureton present a Game Changer jersey to Mike Smith from Cass Community Social Services pic.twitter.com/rlhigIR0J9

— Detroit Pistons (@DetroitPistons) June 24, 2014
"Anytime Cass needs something, he steps up to the plate," said Cureton. Before getting choked up, Smith thanked everyone for the honor, acknowledging he has now been clean and sober for 23 years.
A Helping Hand
Ford Motor (NYSE: F) has been the title sponsor of the benefit, held at Coach Insignia restaurant atop the GM Renaissance Center, for the past nine years. Co-chair Burt Jordan, executive director, global PT purchasing at Ford, thanked Thomas for all his work in the Detroit and Chicago communities before speaking about what he's learned from his company.
Jordan touted Ford Motor's 111th birthday, stating how the automaker has donated over $150 million over the last 10 years. He then mentioned something that Bill Ford, Jr., executive chairman, always says.
"Good companies turn a profit. Great companies not only turn a profit, but make the world a better place. That's what we're all about and why we like to be associated with Cass."
Back In Blue?
A Detroit News report back in May said Thomas was on the verge of becoming a minority owner in the Pistons. Thomas played for the team from 1981-1994, and has since had a very up-and-down basketball career.
He has, however, been welcomed back warmly any time he makes a return to Detroit. Thomas didn't specify, but when asked by Benzinga if fans can expect to see him at The Palace a lot more this season, he flashed his famous smile and said they could.
View Comments and Join the Discussion!
Posted-In: Burt Jordan Cass Community Social Services Detroit Detroit PistonsTopics Events Success Stories General Best of Benzinga