Top 8 Bitcoin Stories Of 2014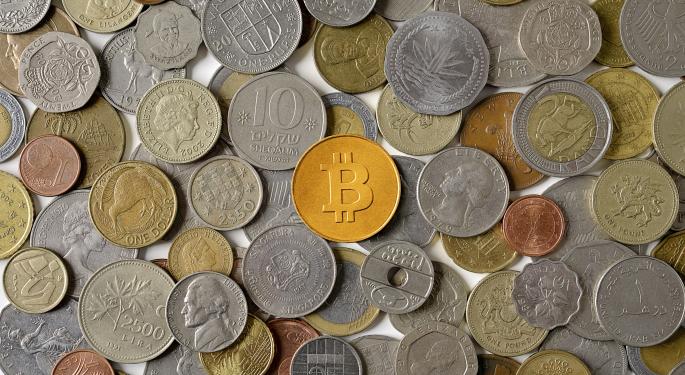 Only one quarter into 2014, the year has already been a wild ride for bitcoin. This article outlines the top eight stories from the first quarter of 2014.
The collapse of Mt. Gox was stunning both in its scope and impact. While most of the community suspected Mt. Gox had issues, everyone was shocked when Gox announced a 100 percent loss. The Gox failure brought the price of bitcoin tumbling from the $800 range to as low as $350.
Many bitcoin faithful were surprised by the resulting loss of confidence in bitcoin itself and the change in the media's perception of bitcoin. After all, the causal issue was that Mt. Gox was a poorly run business, not a bitcoin flaw.
Related: Bitcoin Is Not Just A Volatile Bubble
Commerce Starts To Take Off
Since the beginning of the year, when Overstock decided to accept bitcoin, major companies have been following on with announcements of their own. The San Jose Earthquakes, The Sacramento Kings, Zynga, Stripe, Tiger Direct and Square all begin accepting bitcoin this year.
More announcements are expected, and despite Amazon's assertion it will not take bitcoin, bitcoin faithful Roger Ver believes it will before the end of the year.
Venture capitalists have publicly disclosed investments of $64 million this year and are on track to top $200 million by the end of the year. The venture capital investment provides two huge benefits.
First, it provides the capital for bitcoin businesses like Coinbase to scale to millions of customers. Second, it incentivizes entrepreneurs around the globe to focus on ways bitcoin can provide value to consumers.
Security Is Becoming a Bitcoin Strength
As highlighted by the Mt. Gox failure, today's insecure computing environment is inadequate for storing valuable data.
This year hardware wallets, like Trezor, and multi signature transactions are going to eliminate the ability for bitcoin companies to run off with customer funds. These security advancements for consumers will complement the fraud proof nature of bitcoin payments for merchants.
This year, the U.S. Internal Revenue Service released guidance on its interpretation of how existing regulations apply to bitcoin. Contrary to some reports this was good news.
No new burdens were placed on bitcoiners since no new regulations or laws were passed. The IRS simply clarified how they interpreted the existing regulations. This reduced the regulatory uncertainty and eliminated any doubt Americans had about the legality of their bitcoin holdings.
China's central bank has reversed last year's somewhat neutral bitcoin position. The bank is concerned bitcoin will be used to violate capital controls and money laundering regulations.
This year, the central bank is warning banks about the risks of bitcoin and requiring them to follow more stringent regulations. For example, the rules require banks to monitor accounts for bitcoin-related transactions and notify customers that using bank accounts to trade bitcoins is prohibited.
Bitcoin Common Law Forming
Charlie Shrem, Ross Ulbricht, Robert Faiella and potentially Mark Karpeles may all be in court this year defending themselves. These will be historic, precedent setting cases that could have huge implications for how bitcoin is regulated, how internet commerce is regulated and if anti-money laundering laws apply to bitcoin.
People often forget bitcoin's blockchain is an amazing computer science advancement.
This year altcoins are emerging as monetization mechanisms for musicians and brands, funding mechanisms for companies, alternative national currencies and as applications. 
While the rest of the world is trying to understand bitcoin, cryptocurrency developers are continuing to innovate.
Believers hope in the future cryptocurrencies will enable individuals to have the same tools at their disposal that financial institutions provide today: deeds, stock certificates, derivatives, loans, investments, bonds and all the other tools. Altcoins are the place that type of innovation is being experimented with today.
Disclosure: At the time of this writing David Smith has a long bitcoin position.
Posted-In: Bitcoin IRS Mt. GoxCryptocurrency Topics Tech General Best of Benzinga
View Comments and Join the Discussion!