What You Should Know About Social Security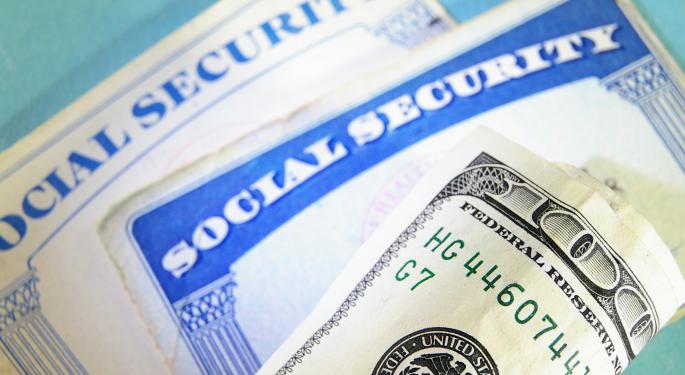 While Benzinga mostly covers actionable trading ideas and news stories, we've decided to delve a bit deeper into personal finance.
The team at Benzinga would like to assist readers with not just their investing endeavors, but their financial lives as a whole. And today, we continue this effort with information on Social Security, which is supposed to provide a retirement safety net for all.
What should you know about Social Security?
Eligibility
According to the Social Security Administration, most people must work at least 10 years to qualify for benefits. Spouses of eligible beneficiaries may also participate.
And, ex-spouse's can collect if they were married at least 10 years and have not remarried. Widows and widowers are also eligible.
Payment Amounts
Retirees cannot begin collecting Social Security benefits until at least age 62. However, at that age, they'll take a 30 percent hit on their check, as Uncle Sam reduces the payment amount to compensate for the additional payments to the recipient. The reduction gradually decreases with each year the retiree waits before taking the first payment.
Most working Americans (those born during or after 1960) will not reach full retirement age until they're 67 years old. Those who do not collect until that age will receive their full retirement benefit each month.
Low Rate of Return
The rate of return on Social Security is far lower than the average stock market return of around 10 percent. For example, according to the Social Security Administration, the average rate of return for a single male born in 1973 is between 0.73 and 4.5 percent.
The expected rate of return at retirement ultimately depends on factors such as marital status, gender (women live longer and thus receive more SS benefits) and birth year (full retirement age has risen). Of course, if changes are made to the system in the future, returns may be higher or lower.
Don't Count on it
Everyone's grandma praised FDR until she was blue in the face. He signed the Social Security Act and provided the retirement savings her and her bingo friends largely lived on, albeit via their own tax dollars. But, by the time younger Americans become grandparents, chances are they'll see little to no return on their investment in the system.
According to the Social Security Administration, the Old Age, Survivors and Disability Insurance (OASDI) trust fund is expected to be depleted by 2033. At this point, Uncle Sam won't have enough to cover full payments to beneficiaries.
With this in mind, it is highly advisable to enroll in a 401(k), IRA or other tax-advantaged savings vehicle to ensure adequate wealth upon retirement.
Posted-In: Topics Economics Personal Finance General Best of Benzinga
View Comments and Join the Discussion!