Cash vs. Credit: The Showdown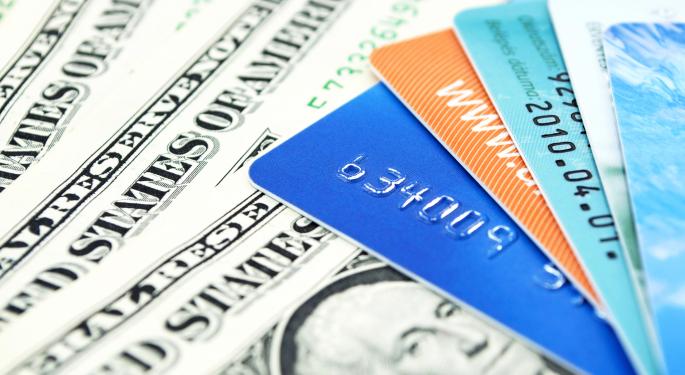 While Benzinga mostly covers actionable trading ideas and news stories, we've decided to delve a bit deeper into personal finance. The team at Benzinga would like to assist readers with not just their investing endeavors, but their financial lives as a whole.
Today, we continue this effort with information on whether the modern trend of buying everything with plastic is ideal or the antiquated method of using cash should make a comeback.
Is it all about the Benjamins or is credit king?
Everyday Purchases
Credit card users typically spend 12 to 18 percent more than their cash-carrying peers. This makes cash the ideal payment method for everyday purchases for budgeting purposes.
And, over 43 percent of U.S. households carry a credit card balance. Meanwhile, it is impossible to incur credit card debt and the associated interest and penalties when strictly using cash.
The risk of a total loss is higher with cash, given that a lost or stolen wallet is seldom recovered by the owner. But, this can be mitigated by carrying just enough cash to purchase the desired items on a given shopping trip.
Large Purchases
Cash is not the best solution for expensive items.
First, there are too many risks involved in carrying large sums of cash. A lost or stolen wallet would be a major financial setback for someone carrying $1,000 to buy a new TV, for example. Yes, credit cards can be stolen, but most offer fraud protection.
Second, cash is not traceable. This makes cash transactions more difficult to dispute than others, which can be problematic when dealing with less-than-reputable sellers.
But, credit isn't necessarily the answer. That's because debit cards offers most of the same features as credit cards, minus the debt and fees. Debit cards eliminate the need to borrow money while reducing the risks of paying with cash. Checks are another option. They may hold up the rest of the line, but they offer an additional means of documenting transactions. Better yet, they're difficult to steal, given that many stores require ID before accepting checks.
That said, credit (such as loans) will often be necessary for very expensive items, namely cars and houses. Of course, most people face no other recourse that to take out a loan for such purchases, particularly the latter.
Online Purchases
Credit cards are not necessarily ideal for online purchases, either. Again, debit cards offer mostly the same features without the associated risks and they can be used for online purchases. The only reason debit cards aren't ideal across the board is that, like credit cards, they give buyers access to additional money – which encourages more spending.
One Caveat
Credit cards may be worthwhile for college students and others who are just starting out on their financial journey. Using a credit card will naturally build credit, which is important for borrowing for a home later in life. However, they can typically build sufficient credit by simply buying gas once a month and paying the bill on time.
Posted-In: NerdWalletTopics Personal Finance General Best of Benzinga
View Comments and Join the Discussion!