10 Good Paying Jobs You Can Get With a Two-Year Associate's Degree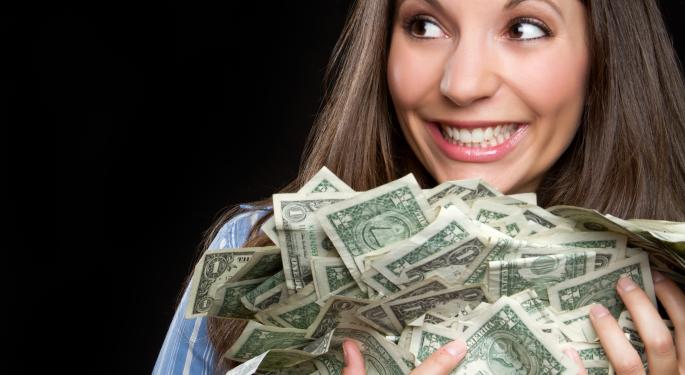 If you, or a family member, is in "What do I want to do with my life?" mode, you should know that the four-year college route is not the only option for a well-paying career.
This is good because the cost of college has risen higher than the rate of Inflation—much higher. In fact, the cost of going to a four-year college has risen twice as high as the rate of inflation according to FinAid.
Add to this the fact that a new study by FICO, reported by Forbes, says college students are graduating with an average of $27,000 in debt, prospective students are rethinking the traditional model of going to a four-year college before entering the workforce.
There are jobs available that pay well and for which demand is growing. Here are a 10 jobs to consider that only require a two-year Associate's Degree, according to a new study done by Economic Modeling Specialists Intl. (EMSI) and CareerBuilder.
Air-traffic controller: Approximate Median salary - $100,000
Air traffic controllers generally work in control towers. Total concentration is required at all times and the work can be stressful and exhausting. Night and weekend shifts are common.
Requirements to become an air traffic controller include:
1.      U.S. citizenship
2.      Completion of an air traffic management degree from a Federal Aviation Administration certified school
3.      Achieving a qualifying score on the FAA pre-employment test
4.      Completion of a training course at the FAA Academy.
With few exceptions, you must be younger than 31 to become an air traffic controller.
Radiation therapist: Approximate Median salary - $75,000
Radiation therapists provide radiation treatments to patients in order to treat cancer and other diseases.
Most radiation therapists work in hospitals or cancer treatment centers.
In addition to formal training with a minimum of an associate's degree in radiation therapy, radiation therapists must be licensed in most states.
Dental hygienist: Approximate Median salary - $70,000
Dental hygienists provide general preventative dental care, clean teeth, and examine patients for oral diseases.
They work in dentists' offices with a dentist and with dental assistants. Education requirements include an associate's degree in dental hygiene and a license.
Nuclear medicine technologist: Approximate Median salary - $69,000
Nuclear medicine technologists use a scanner to create images of various areas of a patient's body. They prepare radioactive drugs and administer them to patients undergoing the scans while working in hospitals, physicians' offices, or imaging clinics.
Nuclear medicine technologists typically need an associate's degree in nuclear medicine technology and must be licensed in many states.
Nuclear technician: Approximate Median salary - $68,000
Nuclear technicians assist physicists and engineers in nuclear research. They operate the equipment used in these activities and monitor levels of radiation.
Most nuclear technicians work in the nuclear power industry and have to take safety precautions to avoid exposure to radiation.
This job typically requires an associate's degree in nuclear science or a nuclear-related technology and go through extensive on-the-job training.
Registered nurse: Approximate Median salary - $65,000
Registered nurses (RNs) provide and coordinate patient care, educate the public about various health conditions, and provide advice to patients and their family members in hospitals, doctors' offices, home health care services, and nursing homes. They also work in prisons, schools, and with the military.
RNs can be licensed with an associate's degree in nursing, although many get a full four-year degree. A license is granted by passing a national licensing examination.
Diagnostic medical sonographer: Approximate Median salary - $65,000
Diagnostic medical sonographers use special equipment that directs sound waves into a patient's body to assess and diagnose various medical conditions.
Most diagnostic medical sonographers work in hospitals. Some work in physicians' offices or clinics.
This job requires formal education in the field through an associate's degree or a postsecondary certificate. Many employers also require professional certification.
Fashion designer: Approximate Median salary - $63,000
Fashion designers work in wholesale or manufacturing establishments, apparel companies, retailers, theater or dance companies, and design firms.
Postsecondary education is not required. Most fashion designers entering the industry have some formal education where they learn design skills, including how to use computer-aided design (CAD) technology.
Employers usually look for applicants who are creative but also have a good understanding of the production process for clothing.
Aerospace engineering and operations technician: Approximate Median salary - $61,000
Aerospace engineering and operations technicians operate equipment used in developing, testing, and producing new aircraft and work in laboratories, offices, and manufacturing plants.
An associate's degree is becoming more desired by employers, but vocational programs grant certificates or diplomas that also offer good preparation. Some will work on projects that are related to national defense and require a security clearance.
Electrical and Electronic Engineering technician: Approximate Median salary - $58,000
Electrical and electronic engineering technicians help engineers design and develop computers, communications equipment, medical devices, navigational equipment, and other electrical and electronic equipment.
Electrical and electronic engineering technicians work closely with electrical engineers. They work primarily in manufacturing settings or research and development laboratories.
Posted-In: CareerBuilder finaid Forbes nuclear Registered NurseTopics General Best of Benzinga
View Comments and Join the Discussion!