Zola Books to Revolutionize E-book Market?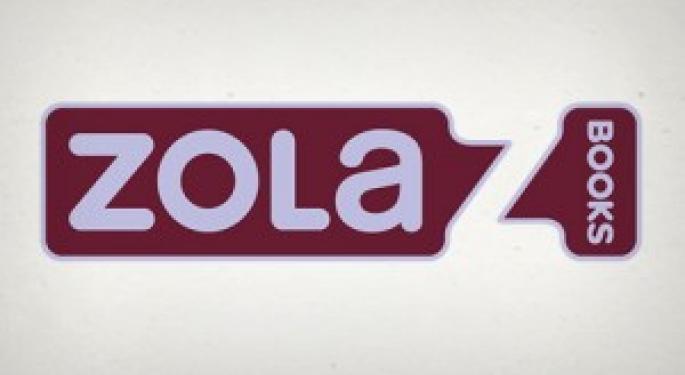 Startup bookseller Zola Books rose from the war between competing e-book systems regarding open source versus closed source books. Conflict also arises between competing mobile reading platforms from Barnes and Noble (NYSE: BKS), Amazon (NASDAQ: AMZN) and Apple (NASDAQ: AAPL). Zola Books plans to revolutionize the industry, according to CEO Joseph Regal.
In an interview with Benzinga, Regal said his next step was "going live." Regal went on to say, "We have 6 months worth of tasks scheduled and a mature version of Zola Books needs to be ready next month."
Regal may have a monumental task ahead of him. Obstacles will include negotiating with publishers and bookstores and converting thousands of books to Html5. Zola Books is going to be an open retailer with a universal format, as Zola's Html5 books will be compatible with the iPad, Kindle, Nook and Kobo.
Zola Books intends to bring the whole industry together, said Regal. Larger stores and independent stores will have storefronts, with a built-in recommendation engine. The site will have a social element that allows authors and readers to converse with each other directly. Customers will also be able to converse with their friends.
Regal previously worked at a literacy agency and problems facing the industry inspired Zola. "I work 18 hours a day now and the company has been going all-out since they were founded in September of 2011," explained Regal. He said the company plans to launch early next month on September 19th, 2012.
In regards to competition, Regal said, "We are not really competing with Amazon, B&N and other retailers because they don't have the social element. Nor are they about curation like Zola is or the independent bookstores. We are the next generation of e-tailing."
According to Regal, "Zola is going to serve the disenfranchised and the underdogs. The hardest part is convincing the underdogs (independent bookstores) to sign up. The stores are skeptical after Google Books didn't follow through on promises made. Zola Books strives to empower the author and the readers."
There are about 600 independent bookstores who sell e-books in the United States and roughly 100 have signed up with Zola Books. The e-book library proposed by Zola is fluid and should transfer to all of your connected devices or apps.
Zola Books will likely make waves in the e-books world with the universal format and all-in-one bookstore style. Companies like Facebook (NASDAQ: FB) and Google (NASDAQ: GOOG), along with book retailers, may be interested in acquiring Zola. The expanse of technology that Zola is incorporating into its product might make the company a unique asset.
Posted-In: Amazon Barnes and Nobles FacebookTopics Economics Startups Small Business General
View Comments and Join the Discussion!