IDC's 1% Tablet Forecast Increase Masks a Huge Decrease in Expectations for Google Android
By Michael Comeau, Minyanville
Yesterday, market research firm IDC increased its 2012 tablet market forecast by a measly 1.2% from 106.1 million to 107.4 million units.
However, after performing a little seventh-grade math, IDC has an awfully murky outlook for Google (NASDAQ: GOOG) Android tablet sales -- and an increasingly positive one for Apple's (NASDAQ: AAPL) iPad.
Let's hop in the DeLorean, kick it up to 88 mph, and head back to March 13, 2012. On that day, IDC made a 21% increase in its 2012 tablet forecast by going from 87.7 million units to the aforementioned 106.1 million units. That was big.
Now on that fateful day, IDC's 2012 iPad forecast stood at 58.0 million units while its Android unit forecast was 46.9 million units:
I want you to focus on how this chart was presented -- when I moused over it, it revealed units.
Now let's look at the equivalent chart from yesterday, which displayed market share in terms of percentage: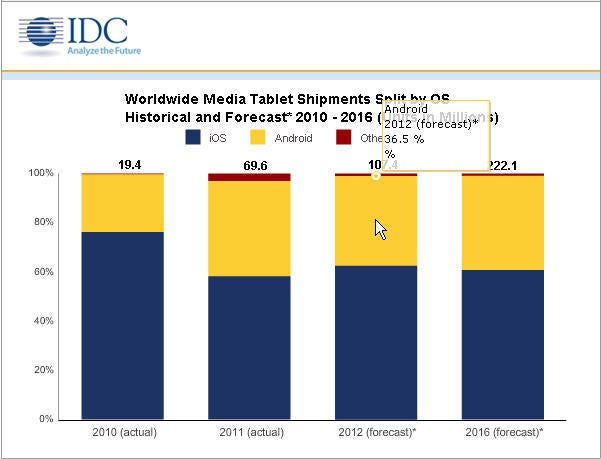 Let's equalize the presentation.
When we take the new 2012 Google Android tablet market share forecast of 36.5% and multiply it by the new 107.4 million unit forecast for the market, we get 39.2 million units.
That 39.2 million number is a whopping 16.4% decrease from the 46 million unit forecast from March 13.
Likewise, IDC's forecast for Apple iOS units has gone from 58 million units to 67.1 million units (62.5% X 107.4 million units = 67.1 million units) -- a boost of 15.5%!
I suspect that these numbers aren't making the rounds because the mainstream media outlets didn't bother to do the math.
Now what's going on here?
Here's IDC's take on Apple's strength:
"After a very strong launch of new products in March, Apple's iPad shows few signs of slowing down," [Tom] Mainelli added. "The addition of the Retina Display and 4G capabilities to the third-generation products clearly enticed many current owners to upgrade. And Apple's decision to keep two iPad 2s in the market at lower prices—moving the entry-level price down to $399—seems to be paying off as well. If Apple launches a sub-$300, 7-inch product into the market later this year as rumored, we expect the company's grip on this market to become even stronger."
Elsewhere, IDC is taking down forecasts for eReaders since low-end tablets are taking share in the non-Apple part of the market:
While IDC increased its forecast for media tablets in 2012, the firm significantly lowered its forecast for eReaders in 2012. After a disappointing first quarter, and strong indications that low-priced tablets are significantly impacting demand, IDC now expects 2012 shipments to be stable at around 28 million units, down slightly from the 28.2 million units that shipped in 2011.
This makes sense, given that bargain-basement Android tablets like the Amazon (NASDAQ: AMZN) Kindle Fire and the Barnes & Noble (NYSE: BKS) NOOK tablet aren't much more expensive than eReaders.
To wrap it up, assuming IDC's forecasts are in the neighborhood of correct, they lend credence to my view that the Google Android tablet market is much, much weaker than many Google bulls would like you to believe. (Read these two articles for additional data points: Why the Google Android Tablet Market Is Far Weaker Than It Seems and Amazon's Kindle Fire Gets Smashed as Apple's iPad Regains Tablet Market Share.)
There is no tablet market.
There is only an iPad market.
Get the picture?
And oh yeah, since we're on the topic of who's on top, I'll kindly repost this chart detailing first-quarter mobile phone sales growth:
Yes, I'm biased as all get out.
But hey, at least I've got enough respect for you to back my views up with numbers.
More from Minyanville:
The preceding article is from one of our external contributors. It does not represent the opinion of Benzinga and has not been edited.
Posted-In: IDC iPad mobile phoneTopics Markets Tech Trading Ideas General
View Comments and Join the Discussion!