Twitter Review Of Cheesecake Factory: 'Ostenatiously Gaudy And Consistently Cheap'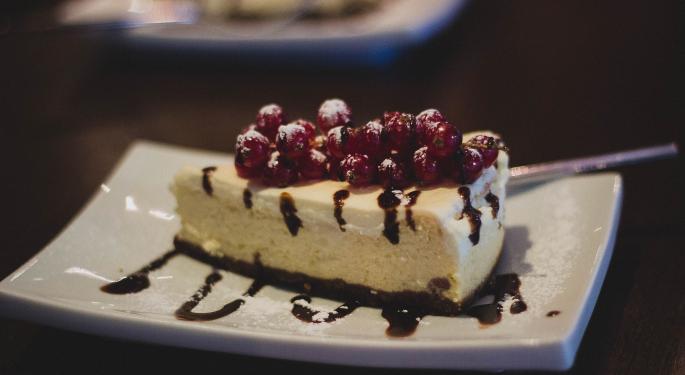 A review of Cheesecake Factory Inc (NASDAQ: CAKE)'s restaurant has gone viral across various social media platforms.
What You Need To Know
Twitter user @MaxKriegerVG is responsible for writing a review of a recent visit to a Cheesecake Factory. Krieger, a game developer who's working on a speedy puzzle game called @CROSSNIQ, said Nov. 16 his visit to a Cheesecake Factory is like visiting a "mix between Fry's Electronics, an overgrown Panera, and a laser tag arena."
The restaurant chain's attempt at marketing itself as a "luxury dining" experience falls short of expectations in light of its plastic water tankards and vinyl-lined particle boards, Krieger said.
"Both ostentatiously gaudy and consistently cheap, from the fake plaster walls to the fake wicker chairs, TCF is almost reminiscent of a theme park," another Tweet said. "The more you stare at this and see elements like the tacky booth cushions and glass dividers slowly emerge, the more surreal it gets."
The restaurant menu has its issues too, Krieger said.
"There is no rhyme or reason to them. This menu is not your friend. It is actively trying to mislead you."
Why It's Important
While the series of Tweets are clearly meant to be funny, many investors aren't laughing: Cheesecake Factory's stock is down nearly 25 percent since the start of 2017.
What's Next?
One particular Tweet stands out as particularly relevant for the company's management team to address at a time when some rival restaurant chains, like Darden Restaurants, Inc. (NYSE: DRI), have seen a notable turnaround in their business.
"It feels like a relic of another era, one where such a vision was sold to the American public as a utopian concept," Krieger wrote. "It, like the brief period of neoliberalistic prosperity that made it possible, is a fever dream made manifest. Enjoy it while you can."
Related Links:
3 Restaurants These Analysts No Longer Have An Appetite For
View Comments and Join the Discussion!
Posted-In: cheesecake factory Darden Restaurants twitterRestaurants Media General Best of Benzinga